Back to News
Challenges In Developing Effective Therapeutics Against Respiratory Syncytial Virus Infection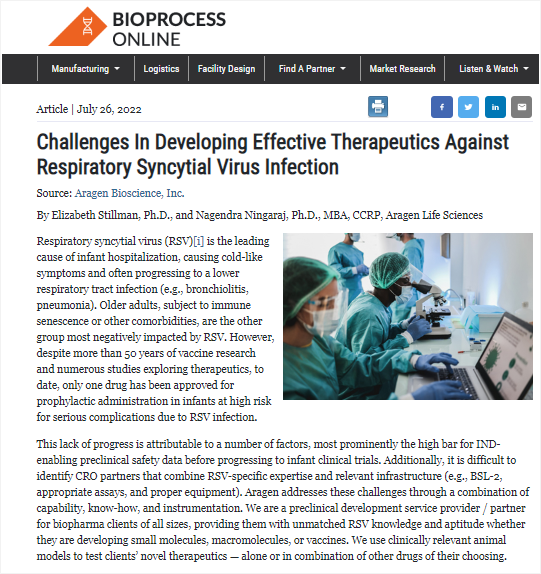 Challenges In Developing Effective Therapeutics Against Respiratory Syncytial Virus Infection
By Elizabeth Stillman, Ph.D., and Nagendra Ningaraj, Ph.D., MBA, CCRP, Aragen Life Sciences
Respiratory syncytial virus (RSV)[i] is the leading cause of infant hospitalization, causing cold-like symptoms and often progressing to a lower respiratory tract infection (e.g., bronchiolitis, pneumonia). Older adults, subject to immune senescence or other comorbidities, are the other group most negatively impacted by RSV. However, despite more than 50 years of vaccine research and numerous studies exploring therapeutics, to date, only one drug has been approved for prophylactic administration in infants at high risk for serious complications due to RSV infection.
This lack of progress is attributable to a number of factors, most prominently the high bar for IND-enabling preclinical safety data before progressing to infant clinical trials. Additionally, it is difficult to identify CRO partners that combine RSV-specific expertise and relevant infrastructure (e.g., BSL-2, appropriate assays, and proper equipment). Aragen addresses these challenges through a combination of capability, know-how, and instrumentation. We are a preclinical development service provider / partner for biopharma clients of all sizes, providing them with unmatched RSV knowledge and aptitude whether they are developing small molecules, macromolecules, or vaccines. We use clinically relevant animal models to test clients' novel therapeutics — alone or in combination of other drugs of their choosing.
The Current RSV Therapy & Vaccine Landscape
Most people become seropositive by the age of two and it is common for people to be infected with RSV multiple times throughout their lives. In healthy adults, RSV symptoms are typically mild and may be thought of as a common cold. A person might not even realize they are infected.
As noted above, infants and the elderly are the groups most negatively impacted by RSV infections, with RSV infections as the leading cause of hospitalization among infants. RSV infection also causes significant morbidity in the elderly and high-risk adults. For newborns that meet certain criteria (e.g., premature, heart defects, and/or born during RSV season), the only drug approved for RSV thus far is Synagis,[ii] which is used prophylactically. Numerous therapies intended for older infants appear to be nearing approval, though.
Typically, RSV therapies under evaluation take either a prophylactic or therapeutic approach aimed at controlling the flu-like symptoms. Maternal vaccines also have been explored, wherein a pregnant mother receives a vaccine, boosting her antibodies, which then would be transferred to the baby in utero.
For many years, it was thought that live attenuated viruses represented the optimal path toward vaccinating the infant population because they seemed the safest. Accordingly, many infant trials have been conducted using live viral vaccines, but finding one that replicated well enough and prompted enough of an immune response — without causing illness or similar issues — has proven difficult. Still, rapid development of COVID-19 vaccines has the potential to impact RSV vaccine strategy, as well as the strategy for older adults, who require a different approach than infants because of their seropositive immune status in conjunction with possible immune senescence.
RSV Therapy & Vaccine Development Challenges
The main hurdle toward developing an RSV vaccine is the virus' multiple mechanisms of evading immunity. Specifically, RSV reinfects people throughout their lives with relatively low genetic variation compared to other ribonucleic acid (RNA) viruses.
Progressing to RSV clinical trials in the infant population always has been difficult. It is expensive and there is little tolerance for any kind of side effect; this high bar for safety at the preclinical stage can be a significant hurdle. Regardless, numerous organizations are studying RSV, exploring everything from small-molecule antivirals and large-molecule antibody drugs (e.g., Synagis) to vaccines.
Preclinical RSV models may not capture all the pathophysiological responses that occur in humans but serve primarily to investigate the effect of drugs or vaccines on RSV replication. This is why, during preclinical studies, the ex vivo component of RSV animal models is so vital: researchers need to be able to quantify the amount of virus present, as well as observe the types of elicited immune responses. In this way, specific pathways may be targeted by small/large molecule therapies or vaccines.
The differences between each approach manifest more technically in execution of the study. Each strategy can have different routes of administration or different timing (e.g., the optimal timing to dose, or bleed, or look at immune responses). Thus, the most critical endpoint in pre-clinical studies is reducing viral replication, which is then thought to lead to mitigation of flu-like symptoms. The development paths — in terms of in vivo pharmacology, absorption/distribution/metabolism/excretion, pharmacokinetic/pharmacodynamic (PK/PD) modeling — differ greatly between antivirals and vaccines.
With the exception of some large companies, many biopharma organizations choose to outsource IND-enabling preclinical studies. And, while many CROs offer RSV drug testing services, few combine capability with relevant expertise and experience. For example, the CRO needs to have a good infectious disease expert and a trained histologist, as well as access to — and experience in — using relevant animal models.
How Aragen Can Help
Aragen's 15,000-square-foot vivarium and laboratory in Morgan Hill, CA, is designed specifically to serve our partners who need IND-enabling preclinical studies. We've run these studies for more than a decade and, as such, we can run a number of different types of animal models directly relevant to future clinical stage development of anti-RSV drugs and vaccines. When exploring RSV therapy efficacy, either from a small- or a large-molecule antiviral or a vaccine, our partners need to quantify viral replication in the animal, examine the immune response that's developed, or look at the cytokines expressed or downregulated.
Aragen uses a mouse RSV model and a cotton rat RSV model, whereas many of our competitors only work with cotton rats. Cotton rats typically are utilized specifically for infectious disease studies, and the cotton rat model is considered one of the gold standards for RSV research, but the capability to conduct mouse studies, as well, often enables clients to decide whether the test article they have developed can move into a next stage of prolonged drug development process. Well designed and executed preclinical IND-enabling studies are critical for progressing to clinical trials.
Not only is Aragen distinguished by its RSV animal models, BSL-2 suite, and RSV-specific preclinical expertise, we offer the laboratory capability to fulfill the ex vivo aspect of preclinical studies, determining whether the animal models used worked — there is no need to send tissues elsewhere to be analyzed. Other partners may offer animal models but require the lab work to be outsourced, or they can conduct lab work but not animal models; we provide both.
In addition to more general lab instrumentation — which is sufficient for much of RSV-related work — Aragen runs the Meso Scale Discovery (MSD) assay for cytokine analysis. For vaccine studies, we have a robust plate-based, micro neutralization assay against both the A and B strains. To measure vaccine cellular immune responses, we also have expertise in T and B-cell Elispot assays, as well as cytokine release assays and tetramer binding studies. To analyze ex vivo lung tissues, Aragen recently created an in-house histopathology group that supports immunohistochemistry and other related antibody staining services.
Summary
While no vaccines exist to prevent RSV infection and limited prophylactic options are available for high-risk infants, development of vaccines and anti-viral drugs is heading in an exciting direction. The tools exist to safely test small molecule antivirals, large molecule biologics, and vaccines. Industry reaction to the COVID-19 pandemic has set a precedent for swift development and approval of vaccines. And partners like Aragen offer the expertise and experience to help organizations achieve their preclinical studies, regardless of modality.
Dozens of pharma and biotechnology companies are striving to create effective RSV vaccines and/or RSV-related therapeutics, but only a few such products ever will make it to market. Through efficient, IND-enabling preclinical studies, Aragen can help your RSV project along its path to that success. To learn more, contact the authors and visit www.aragen.com.
About The Authors
Elizabeth Stillman, Ph.D., is Director of Preclinical Efficacy Testing Services at Aragen Life Sciences. She has extensive experience in the RSV preclinical space, as well as deep expertise in vaccines and virology. Elizabeth brings to Aragen nearly a decade of biotechnology experience in leading and contributing to IND-enabling pre-clinical research and clinical research. Her work includes characterizing the attributes of — and immune responses to — live and subunit vaccine candidates, working with adjuvants, composing sections for IND filing, and assay development.
Dr. Nagendra is Senior Director of Scientific Affairs and Alliances at Aragen Life Sciences. He has held progressive leadership roles in pre-clinical and clinical oncology research and development. He has worked at academic centers including the University of Kansas, Cedars-Sinai Medical Center, Mercer University Medical Center, Vanderbilt University Medical Center, and Anderson Cancer Institute. Dr. Nagendra has led research teams on brain tumor and breast cancer biology, has been extensively published in peer-reviewed journals, and holds U.S., EU, and Japan patents. He directed the Human Tissue banking and biorepository and New Animal Facility and has worked in pharmaceutical companies such as Dr. Reddy's Labs, Scintilla BioMarc, and PPD/ Thermo Fisher Scientific, with focus on in vitro diagnostics, clinical pharmacology and toxicology, and medicinal chemistry aspects of clinical drug development.
About Aragen
Aragen (Formerly GVK Biosciences) is a global leader in providing drug discovery, drug development, and manufacturing solutions for life sciences firms.
References
[ii] https://www.synagis.com/index.html
Source: Bioprocess Online