Back to News
Why this company focuses on employee branding to retain top notch talent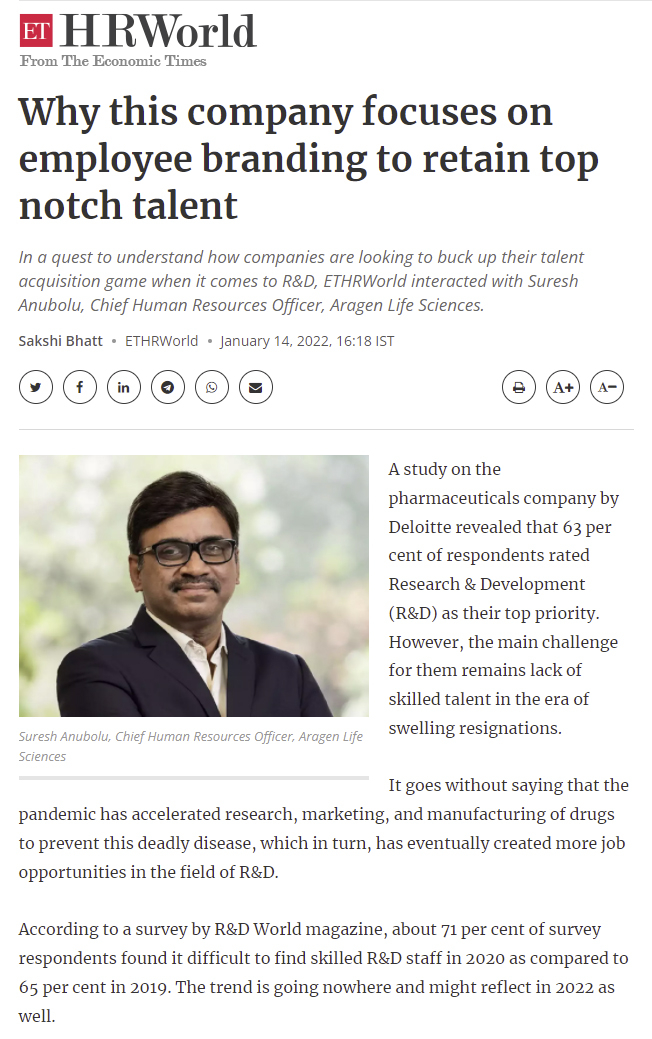 In a quest to understand how companies are looking to buck up their talent acquisition game when it comes to R&D, ETHRWorld interacted with Suresh Anubolu, Chief Human Resources Officer, Aragen Life Sciences.
A study on the pharmaceuticals company by Deloitte revealed that 63 per cent of respondents rated Research & Development (R&D) as their top priority. However, the main challenge for them remains lack of skilled talent in the era of swelling resignations.
It goes without saying that the pandemic has accelerated research, marketing, and manufacturing of drugs to prevent this deadly disease which in turn, has eventually created more job opportunities in the field of R&D.
According to a survey by R&D World magazine, about 71 per cent of survey respondents found it difficult to find skilled R&D staff in 2020 as compared to 65 per cent in 2019. The trend is going nowhere and might reflect in 2022 as well.
Employee branding: An effective strategy for attracting and retaining talent
Suresh Anubolu, Chief Human Resources Officer, Aragen Life Sciences, stressed on the fact that the R&D industry is new, unlike the pharmaceutical and healthcare industry which makes employee branding even more important in order to create a differentiation with the existing players.
A research by LinkedIn and Talent Solutions showed that 59 per cent of recruiting leaders worldwide are investing more in employee branding. Amid the increasing digitization and surge in demand for talent, companies are adopting employee branding to attract and retain talent.
But how does one create that differentiation and have a competitive advantage over other industry players?
Anubolu said the differentiation comes with the company's employee value proposition and employee branding.
Also, according to him, a change in demographics while hiring is making talent sourcing and hiring opportunities different. He said, "Around 20 years back, the age group, the opportunity, sourcing approaches, platforms were very different than today. Employee branding is very important today because offline models are moving into digital models and establishing the right talent branding and branding approaches are equally important."
While talking about employee value proposition and its importance in 2022, Anubolu said, "Our employee value proposition is that we invest, we learn and we grow together, which we called five years back and we included the entire workforce while crafting the employee value proposition."
Due to the increased digitization, Anubolu emphasised strengthening online branding to reach out to talent in various parts of India. He also apprised that receiving employee feedback is an important part of employee branding.
Anubolu said, "Each stage is important, what experience you are giving."
For instance, one of the unique interventions that Aragen Life Sciences did is the candidates who attended interviews with the company were asked for interview feedback, including recruiter quality. The feedback also comprised the interview quality and reception, including how they greeted and made the candidates feel comfortable.
According to Anubolu, all other parameters the company captures are to make necessary corrections to their employee branding.
The impact of pandemic on hiring and workforce
For the R&D departments of pharmaceutical companies, dealing with the pandemic has become even more complicated as working from home is seldom an option for their professionals.
While speaking about the challenges in hiring talent amid the fear of getting infected, Anubolu said that ensuring employee wellbeing and developing trust about employee safety, especially when employees were coming to the office, was a major factor for employee retention and attraction.
"We ensured that coming to the office is as safe as being at home and we took various interventions, including quarantine centres, separate Covid policy of 15 days leave. We encouraged a three-shift model and asked employees to come from six-nine kinds of the ecosystem," he said.
Talking about the talent sourcing platforms, he shared that campus placements were a major talent source and around 250 employees were hired through it amid the pandemic.
Anubolu also talked about ensuring the wellbeing of the casual workforce for their safety and retention, which is spread out across various manufacturing regions for physical support.
He said, "We provided casual workforce their salaries despite the fact that they were not able to report when the pandemic started. We also let the casual workforce take our buses to come to the office because there was no public transportation and we also gave them health assistance like accessibility to doctors during the pandemic."
The future outlook for hiring
Explaining the expanding opportunities in different fields for talent acquisition, Anubolu said,
"We are looking forward to expanding our team through investing in large molecule manufacturing facilities in the US, as for us growth in an organisation comes through creating new capacities."
The pandemic is full of uncertain challenges coming up in the workplace and companies need to be prepared with their hiring strategies as the talent market is mutating day by day. Therefore, Anubolu also emphasised enhancing gender diversity as their future goal while hiring talent.
Anubolu recalled how there was a female employee in the company who didn't disclose that she was pregnant. Meanwhile, she was offered a senior management position and when the position was offered, she told about her pregnancy.
"We gave her maternity leave for six months and as she couldn't immediately join in the new position, we assured her about the security of the new position once she returns after the leaves," Anubolu said.
Anubolu further said that the company is trying to cultivate that culture because tomorrow any woman can be in the same situation, even our family. "We do not just have a policy, but we practise it," Anubolu added.
Source: ETHRWorld