Back to News
Testing Cell Line Development Technology Platforms In Parallel
By Dr. Sufia Karim and Dr. Steven Lang, Aragen Life Sciences Pvt. Ltd.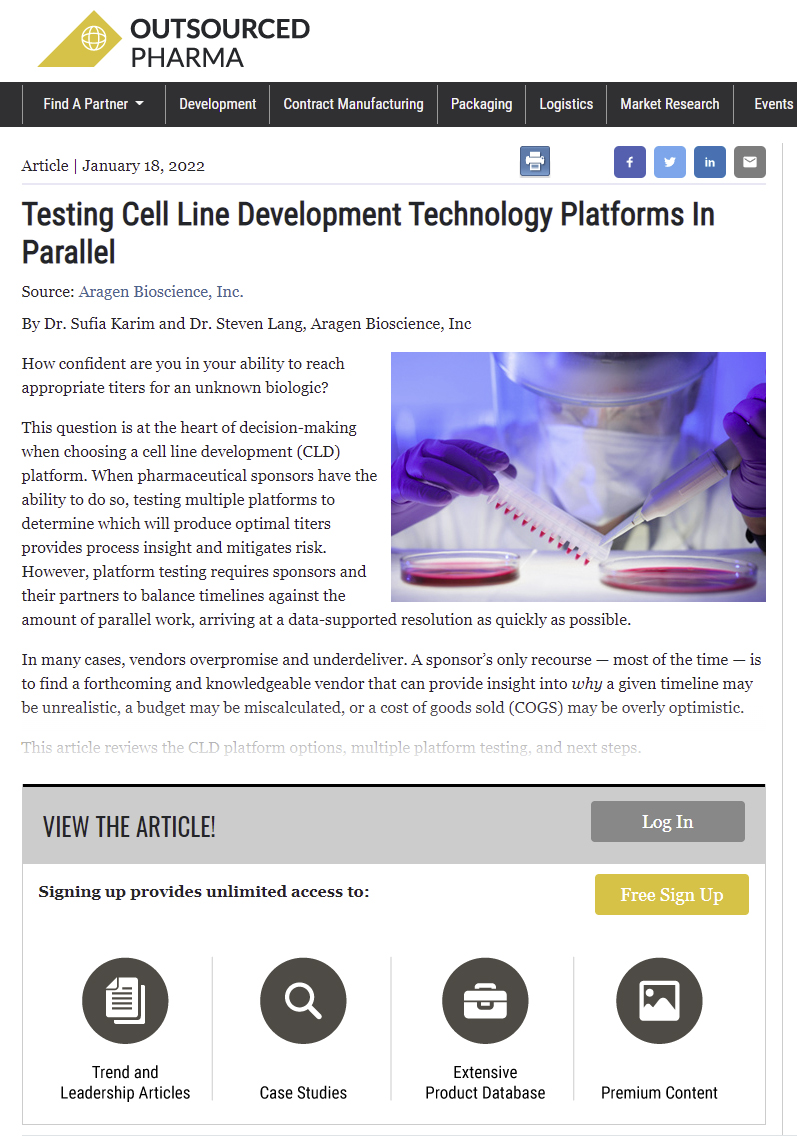 How confident are you in your ability to reach appropriate titers for an unknown biologic?
This question is at the heart of decision-making when choosing a cell line development (CLD) platform. When pharmaceutical sponsors have the ability to do so, testing multiple platforms to determine which will produce optimal titers provides process insight and mitigates risk. However, platform testing requires sponsors and their partners to balance timelines against the amount of parallel work, arriving at a data-supported resolution as quickly as possible.
In many cases, vendors overpromise and underdeliver. For example, a vendor may promise a three-month timeline to a research cell bank (RCB) but provide scant details on how that timeline is achieved. A sponsor's only recourse — most of the time — is to find a forthcoming and knowledgeable vendor that can provide insight intowhya given timeline may be unrealistic, a budget may be miscalculated, or a cost of goods sold (COGS) may be overly optimistic.
These key metrics are influenced by numerous factors, from the available technology to regulators' expectations for Phase I. Moreover, even a seemingly well-developed cell line can be viable for Phase 1, but end up being inadequate for commercialization (i.e., it does not scale well or its quality is inconsistent). Some organizations even opt to rush to Phase 1, fully understanding they will need to switch lines before commercialization. In either case, a comparability study between Phase 1 and, ultimately, Phase III, is expensive and time-consuming.
Understand CLD Platform Options
Most vendors offer only a single platform — take it or leave it. But, given the diversity of proteins explored in the life sciences and the unpredictability of biological systems, CLD options at a program's outset allow sponsors to de-risk the program by applying different platforms to discover which exhibits the highest chance of success. This is one reason Aragen offers full capability across three CLD platforms:

CHO-DG44— Aragen's DG44 platform is a royalty-free platform based on Chinese hamster ovary (CHO) technology using dihydrofolate reductase (DHFR) selection to mark cells that have successfully integrated the vector. DG44 has a low cost of ownership, is well-accepted by both sponsors and regulators, and delivers high antibody titers in commercially available media and feeds.

MilliporeSigma CHOZN®— CHOZN is a glutamine synthetase (GS) knock-out using the Talon technology. Its efficacy and operation are well-understood by regulators, and its expression vector achieves data comparable to the DG44 platform. CHOZN generally is characterized by higher milestones but combines established technology with a newer selection system.

Asimov— Asimov is a newer technology that, like CHOZN®, uses a CHO GS knockout. It utilizes artificial intelligence (AI) to optimize the expression cassette for improved productivity, especially for novel formats or proteins likely to be challenging to express.
Aragen clients can test all three platforms at the same time. Aragen has optimized natural breaks in the process to stop testing as soon as data is available to determine which platform works best. The goal is to build a cost-effective evaluation of options to reduce risk and timelines while saving money.
With so many CLD options on the market, it is challenging to decide which platform will work for your specific product. Sponsors risk having to repeat CLD if the selected platform results in a cell line with nonviable COGS due to low titers or poor product quality. Aragen's approach to test multiple platforms mitigates this risk.
To Test, or Not to Test?
If a cell line is producing at a very low level in a transient expression system (based on previous experience), it is more likely to be a candidate for multiple platform testing. Differences between the CHO hosts and expression systems can help build that low productivity into a viable asset. Aragen has established the CLD platforms with consistent timelines (DNA to RCB in five months).
Aragen's CLD expertise, which spans over 28 years in the industry, allows for flexibility and unmatched capabilities to meet sponsor's specifications. If two platforms exhibit similar titers, the deciding factor may be outstanding quality from a particular platform or the royalties and milestones associated with a platform.
I'd Like to Test Platforms— Now What?
Testing discussions initially take place between the client and Aragen's technical team as the latter tries to understand the former's molecule better. Elements of that discussion include previous data the client has on expression and product quality, as well as concerns they may have about the molecule. This early collaboration usually involves leveraging prior knowledge on similar protein formats, sequence liabilities, and useful elements in the expression vector. Before anything begins, we need to understand not only end-of-process productivity and product quality goals, but also the feed and media types the client wishes to use, or the stability they expect from the cell line.
While we are learning about the molecule, we encourage the client to pursue developability — an analytical package to help comprehend how well the molecule will survive the chemistry, manufacturing, and controls (CMC) process — if they have not done so already. Once we have achieved a good understanding of the molecule, client specifications, and developability, Aragen's technical team proposes a strategy and timeline to the client, highlighting nuances important to success.
Major decision points in CLD occur around the minipool and single-cell cloning stages, when we analyze product quality and productivity. These decisions are important inflection points where the number of expression platforms can be reduced. Aragen works with the client to make a data-driven decision on the best expression platform to progress and ultimately select three cell lines for RCBs. At the tail end of the CLD process, Aragen's technical team captures all the data from the process used for the selected RCBs and documents a CLD report to share with health authorities.
Final Thoughts
Returning to our opening question, how confident are you in your ability to reach appropriate titers for an unknown biologic? Whether you organization is more "our process is perfectly constructed" or "help us please," Aragen has experience and expertise in helping clients achieve their desired titers and product quality — even when development does not proceed as planned.
The appeal of testing multiple CLD platforms is to mitigate timeline risks on your journey to establish value in the asset (and, usually, it's Phase I). Timelines will always be dictated by the doubling time of cells, but intelligent parallel processing can significantly accelerate projects while minimizing risks.
To learn more about CLD platforms, platform testing, and Aragen's capabilities, visit us at www.aragen.com.
About The Authors
Dr. Steven Lang is Vice President of Biologics at Aragen Bioscience, Inc. Dr. Lang has been working in the biologic's discovery, development, and CMC arena for more than 15 years, including technology development, process optimization, project leadership, due diligences, and strategic interactions. Previously, Dr. Lang was with Genentech, a member of the Roche group, and Janssen Biotherapeutics, a Johnson & Johnson company. Dr. Lang earned his Ph.D. in molecular microbiology from SUNY Stony Brook and his MBA from Rider University.
Dr. Sufia Karim is Director of Cell Line Development & Late-Stage R&D at Aragen Bioscience, Inc. She has more than 18 years' experience in the biotech industry, including leading cell line development, cell culture, process development & optimization, and successful tech transfer. Dr. Karim previously worked with Boehringer Ingelheim and Amgen. She earned her MD from Sir Salimullah Medical College (Dhaka, Bangladesh) and her MS in molecular and microbiology from San Jose State University.
About Aragen Life Sciences
Aragen Life Sciences (Formerly GVK Biosciences) is a global leader in providing drug discovery, drug development, and manufacturing solutions for life sciences firms. We provide clients — from large pharmas and biotech firms to agrochemical and animal health companies — with global resources and proven capabilities at every stage of the biopharma lifecycle, in small and large molecules. Our ability to offer end-to-end solutions or support standalone programs is underpinned by an innovation mindset, enabling technologies, and a partnership approach to every engagement.
Source: OUTSOURCED PHARMA