Back to News
Telangana Today: GVK BIO Eyes Expansion – Targets Europe, US and China; Completes Inspection at its lab in Mallapur in Hyderabad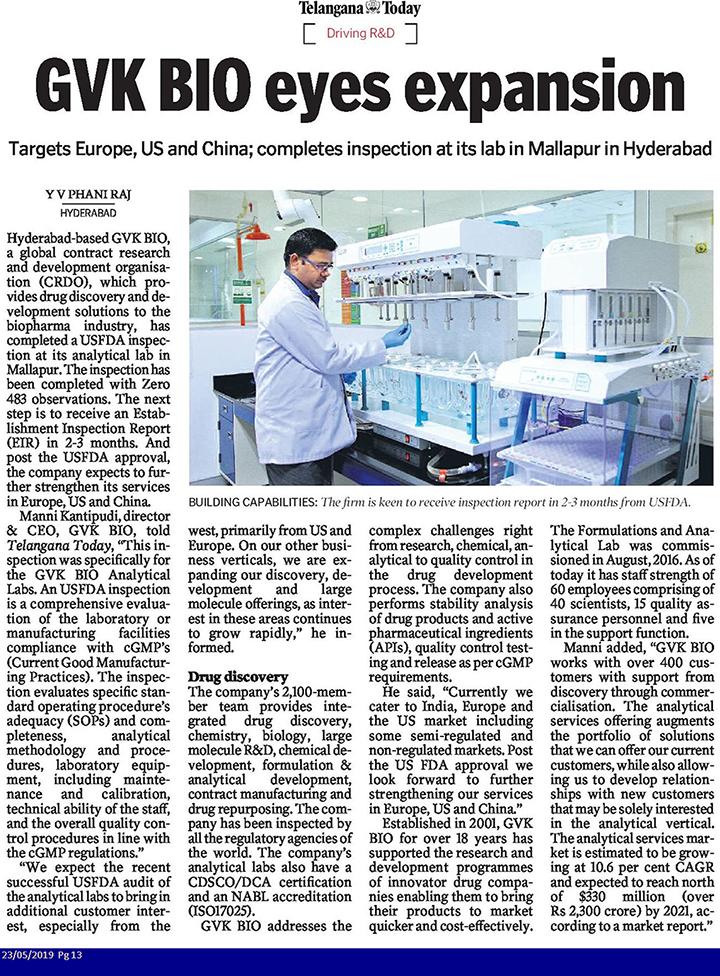 Hyderabad-based GVK BIO, a global contract research and development organisation (CRDO), which provides drug discovery and development solutions to the biopharma industry, has completed a USFDA inspection at its analytical lab in Mallapur. The inspection has been completed with Zero 483 observations. The next step is to receive an Establishment Inspection Report (EIR) in 2-3 months. And post the USFDA approval, the company expects to further strengthen its services in Europe, US and China.
Manni Kantipudi, director & CEO, GVK BIO, told Telangana Today, "This inspection was specifically for the GVK BIO Analytical Labs. An USFDA inspection is a comprehensive evaluation of the laboratory or manufacturing facilities compliance with cGMP's (Current Good Manufacturing Practices). The inspection evaluates specific standard operating procedure's (SOP's) adequacy and completeness, analytical methodology and procedures, laboratory equipment, including maintenance and calibration, technical ability of the staff, and the overall quality control procedures in line with the cGMP regulations."
"We expect the recent successful USFDA audit of the analytical labs to bring in additional customer interest, especially from the west, primarily from US and Europe. On our other business verticals, we are expanding our discovery, development and large molecule offerings, as interest in these areas continues to grow rapidly," he informed.
Drug discovery
The company's 2,100-member team provides integrated drug discovery, chemistry, biology, large molecule R&D, chemical development, formulation & analytical development, contract manufacturing and drug repurposing. The company has been inspected by all the regulatory agencies of the world including USFDA, WHO, PMDA, EDQM and EMEA. The company's analytical labs also have a CDSCO/DCA certification and an NABL accreditation (ISO17025).
GVK BIO addresses the complex challenges right from research, chemical, analytical to quality control in the drug development process. The company also performs stability analysis of drug products and active pharmaceutical ingredients (APIs), quality control testing and release as per cGMP requirements.
He said, "Currently we cater to India, Europe and the US market including some semi-regulated and non-regulated markets. Post the US FDA approval we look forward to further strengthening our services in Europe, US and China."
Established in 2001, GVK BIO for over 18 years has supported the research and development programmes of innovator drug companies enabling them to bring their products to market quicker and cost-effectively. The Formulations and Analytical Lab was commissioned in August, 2016. As of today it has staff strength of 60 employees comprising of 40 scientists, 15 quality assurance personnel and five in the support function.
Manni added, "GVK BIO works with over 400 customers with support from discovery through commercialisation. The analytical services offering augments the portfolio of solutions that we can offer our current customers, while also allowing us to develop relationships with new customers that may be solely interested in the analytical vertical. The analytical services market is estimated to be growing at 10.6 per cent CAGR and expected to reach north of $330 million (Over Rs 2,300 crore) by 2021, according to a market report."
Source: https://telanganatoday.com/gvk-bio-to-strengthen-global-services
Contact
E: corpcomm@aragen.com