Back to News
Predicting Pharma's Future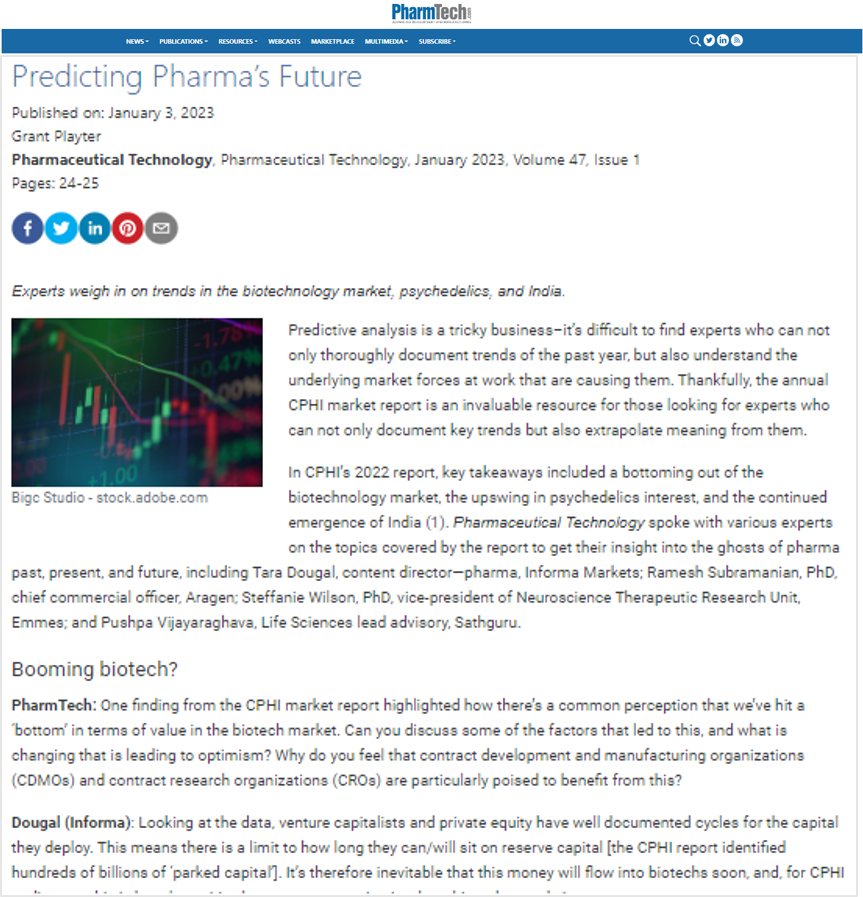 Predictive analysis is a tricky business–it's difficult to find experts who can not only thoroughly document trends of the past year, but also understand the underlying market forces at work that are causing them. Thankfully, the annual CPHI market report is an invaluable resource for those looking for experts who can not only document key trends but also extrapolate meaning from them.
In CPHI's 2022 report, key takeaways included a bottoming out of the biotechnology market, the upswing in psychedelics interest, and the continued emergence of India (1). Pharmaceutical Technology spoke with various experts on the topics covered by the report to get their insight into the ghosts of pharma past, present, and future, including Tara Dougal, content director—pharma, Informa Markets; Ramesh Subramanian, PhD, chief commercial officer, Aragen; Steffanie Wilson, PhD, vice-president of Neuroscience Therapeutic Research Unit, Emmes; and Pushpa Vijayaraghava, Life Sciences lead advisory, Sathguru.
Booming biotech?
PharmTech: One finding from the CPHI market report highlighted how there's a common perception that we've hit a 'bottom' in terms of value in the biotech market. Can you discuss some of the factors that led to this, and what is changing that is leading to optimism? Why do you feel that contract development and manufacturing organizations (CDMOs) and contract research organizations (CROs) are particularly poised to benefit from this?
Dougal (Informa): Looking at the data, venture capitalists and private equity have well documented cycles for the capital they deploy. This means there is a limit to how long they can/will sit on reserve capital [the CPHI report identified hundreds of billions of 'parked capital']. It's therefore inevitable that this money will flow into biotechs soon, and, for CPHI audiences, this is hugely positive because outsourcing is where biotech spends its money.
On the back of this trend, at CPHI we are introducing more content specifically for investors looking at the opportunities CDMOs present. On a more anecdotal level, if you spoke with our exhibitors last month you would hear how positive the outlook is. The event is a crucial platform for meeting the partners that will fill this increased capacity many CDMOs are building. Certainly, the next 18 months to two years look extremely robust, and that's with macro and inflation headwinds factored-in.
Subramanian (Aragen): Our industry is cyclical, and we do go through regular corrections—we are potentially in one such regime. But the drug discovery industry has consistently demonstrated resilience and always comes back with an even better outlook for the mid-term future. Even during these times, though, there are always opportunities for CROs and CDMOs that can adapt and provide value to their partners. In the discovery space, with early assets being put on hold, potential opportunities exist for CROs that can advance those assets forward. CROs with integrated discovery capabilities that blend medicinal chemistry and biology, and have a team of drug hunters, can now create value for their partners by driving these programs cost effectively until the biotech partner is ready to bring the program back in. This creates significant value for both the biotech and the CRO.
On the early development front, with cost rationalization and less personnel, biotechs may prefer engaging with integrated development partners that offer drug substance and drug product capabilities since it reduces the management team and provides better cost metrics due to increased buying power. At Aragen, we view this as an interesting opportunity, since we provide both drug substance and drug product solutions through the clinic, but also combine that with toxicology support that includes access to non-human primates. The ability to rapidly and cost effectively drive programs into IND [investigational new drug] is always of high interest to our biotech partners.
Psychedelics gaining ground
PharmTech: Can you discuss the potential you see in the psychedelics market? Historically, what barriers have prevented the pharma industry from entering the space? Which of these do you expect to come down, and what will remain a challenge?
Wilson (Emmes): There has been a historical reluctance in the psychedelics field to look closely at these compounds' potential because of culture rather than the strength of science. This barrier I think we can see is falling away quickly with the psychedelic renaissance, and we see new market entrants all the time. That said, we are yet to see Big Pharma putting its considerable resources into this area directly, and most trials are undertaken by smaller biotechs or research group collaborations. It's such an exciting time for the field, and we have worked on several large multicenter IND trials already.
In general, the results for psilocybin and 3,4-Methylenedioxymethamphetamine have been hugely promising, but there are still areas in psychedelic clinical trials that present challenges, notably around optimal dose, maintenance of the study blind, and length of therapeutic effects. As one of the few CROs with experience in these still novel trials, we are now getting many more enquiries, and it's probably only a matter of time before we see Big Pharma making a more concerted effort at research.
The other exciting aspect is that, while there are a number of high-profile trials approaching potential approvals, we are still very much in the early stages of this research; we are learning all the time. In addition to the indications which have been the focus of recent trials such depression and PTSD [post-traumatic stress disorder], I think there are other psychiatric and neurological applications—from pain to headache disorders to addiction—where we are seeing increased interest. So that is what we expect in the next year, an increasingly wide and diversified psychedelic research space.
Dougal (Informa): We put together some compelling content sessions for CPHI audiences this year on the potential of the psychedelics market, which is reflective of the increased interest we are seeing. If you heard the keynote address at CPHI Frankfurt—from Dr. David Erritzoe of Imperial College London—you would see that from a trial standpoint we are getting incredibly close to new approvals. The Multidisciplinary Association for Psychedelic Studies and COMPASS Pathways studies in the United States are likely to see approvals of both psilocybin and MDMA, and 70% of the global industry we surveyed expects an approval inside the next three years.
For our content programming and the CPHI annual report, we have focused on what else should be addressed to realize the potential of this sector. Our reports and experts both indicated that the lack of healthcare coverage for the accompanying psychotherapy is perhaps the biggest challenge to wider adoption post-approval. So, initially, we might see approvals but limited patients treated. From a manufacturing point of view, CDMOs with existing schedule 2 licenses will be the biggest beneficiaries, particularly if a payment mechanism can be built into healthcare, as these therapies are likely to be taken over an extended period of time. Then, as synthetic compounds with patent protection come through, profits will increase quickly.
India's growing presence
PharmTech: One of the key findings discussed in the CPHI report was the growth of India in key metrics such as competitiveness and finished product manufacturing quality. What is your perspective on India's potential going forward? How do you feel it compares to the other key raw materials (i.e., APIs and excipients) in China?
Vijayaraghava (Sathguru): Over the last two years, there has been significant thrust on API manufacturing in India, and this is likely to continue. The trend includes Indian companies securing their own value chain by localizing API production as well as private equity funds and strategic investors prioritizing investments in API manufacturing in India. Several Indian companies have strengthened overall competitiveness in API by enhancing the level of backward integration. N-1 is no longer a viable strategy. Sustained competitiveness is likely to be driven by greater value chain strength as well as upstream innovation. Several companies are pursuing opportunities for biotransformation and the sustainability focus is getting more pervasive. For customers seeking to address the Scope 3 goals, this is going to be paramount.
Fair to say, therefore, that India is placed competitively to gain from the current preference and to reduce exposure to Chinese operations. However, in the last two years, contract manufacturing has gained greater favor than direct investment. In addition to API, India is also likely to gain in biologics manufacturing (both drug substance as well as fill-finish) as well as rest of world focused formulations. CDMOs with capability in biologics manufacturing as well as an integrated development platform converging discovery, medchem, in-vitro and in-vivo validation are likely to gain the most.
Segment fundamentals in India are being strengthened by upstream investments. However, we are also staring into a looming recession, and, in the post-COVID world, several countries/regions around the world have explicitly laid down plans for domestic manufacturing for pharma to shore up health security. This is likely to result in API investments expanding to global regions not earlier perceived as dominant hubs and the emergence of unforeseen competition. I envision these trends playing out together; and Indian industry is poised for an exciting phase of growth provided they can manage the macroeconomic challenges with foresight, upstream innovation, and astute execution.
Subramanian (Aragen): Global diversity is now a must have, for any robust supply chain initiative. Hence, there is interest in both India and the West to ensure that clinical trials and commercial supply of medicines remain unaffected by any issues in China. At Aragen, we have had customers come in requesting an independent India-centric manufacturing supply chain that back integrates all the way to the starting material. This ensures security of supply even when a part of the globe gets impacted. India is known globally for its process research and development capabilities and its leadership in the generic supply chain. The same skills translate well for supplying APIs and/or intermediates for innovative therapies.
Pharma's future
PharmTech: We recently polled pharma industry professionals about avenues for potential growth, and two key areas they identified were cell and gene therapies and machine learning and artificial intelligence (AI). Do you agree with these findings? Are there any other technologies in particular that you feel are primed for market growth?
Dougal (Informa): We have seen similar data in our own CPHI surveys, and it remains a key focus of our content programs. From a manufacturing standpoint, the use of automation and smart factories could be next—while AI is being used to improve hit-to-lead rates in discovery. All of which has been well covered at CPHI in the past few years, the other areas undoubtedly maturing in the next two years are the use of continuous processing in solid dose drugs and improved manufacturing efficiencies in biologics with much better titers.
Another area I would point to, highlighted in our 'Future of Outsourcing—Strategies for Partner Selection' report from earlier this year, is the shift away from phase-appropriate development. What this means in practical terms for CDMOs [contract manufacturing and development organizations] is that Phase I is rarely the goal, but rather Phase II and beyond. It means CDMOs now look much further into development when designing processes and chemical pathways. It's also in some ways a reflection of the way biotechs are spending their funding. So, the CDMO opportunity here is to offer more integrated services—both product and substance—up until Phase II. We already see evidence of this in brand marketing at CPHI Frankfurt and understand that many CDMOs are investing to broaden these capabilities.
We also published another 2023 trend report in which we identified that CDMOs are competing in new ways, with talent acquisition and sustainability now marketed as USPs in addition to typical development services. Perhaps less surprisingly, our report also identified an arms race of acquisitions underway amongst bigger CDMOs for cell and gene therapy manufacturing capacity, and, finally, supply chain technologies are likely to be another big breakthrough trend in the next year.
For more from Dougal and other contributors on their bio/pharma market research, check out Predicting Pharma's Future on www.PharmTech.com.
Reference
CPHI, CPHI Annual Report 2022: Psychedelic Approvals, VC Driven Contract Services Boom and Next Generation Manufacturing (12th edition, June 2019).
About the author
Grant Playter is the assistant editor for Pharmaceutical Technology.