Back to News
Post pandemic future for CROs and CDMOs in India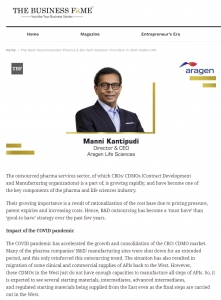 The outsourced pharma services sector, of which CROs/ CDMOs (Contract Development and Manufacturing organizations) is a part of, is growing rapidly; and have become one of the key components of the pharma and life sciences industry.
Their growing importance is a result of rationalization of the cost base due to pricing pressure, patent expiries and increasing costs. Hence, R&D outsourcing has become a 'must have' than 'good-to have' strategy over the past few years.
Impact of the COVID pandemic
The COVID pandemic has accelerated the growth and consolidation of the CRO/ CDMO market. Many of the pharma companies' R&D/ manufacturing sites were shut down for an extended period, and this only reinforced this outsourcing trend. The situation has also resulted in migration of some clinical and commercial supplies of APIs back to the West. However, these CDMOs in the West just do not have enough capacities to manufacture all steps of APIs. So, it is expected to see several starting materials, intermediates, advanced intermediates, and regulated starting materials being supplied from the East even as the final steps are carried out in the West.
Benefit to the Indian industry
Consequent to the impact of the COVID pandemic, India is poised to benefit from the expected growth in needs for API and Drug Product manufacturing. India is now on par with China on key infrastructure and offers an attractive cost-benefit option. India is also benefitting from the 'risk mitigation strategy' that several customers are implementing, as they want to now have a significant footprint in India and China. Some of the recent trade wars due to the pandemic between the western countries and China, is also a key driver behind these diversification plans.
Moreover, with significant capital flowing into life sciences industry, every company, whether a large pharma or young biotech, all have externalization as key element of their core growth plan. In 2020 alone, the industry attracted over $23B in venture investments. These new firms all need CRO/ CDMO services. With the cost arbitrage India offers, Indian players can expect to benefit from access to this capital.
Aragen's initiative to overcome the COVID crisis
With the continued lockdown and threat to employees' health due to COVID-19, business continuity and job security were of utmost importance. Aragen proactively initiated many interventions to minimize COVID's impact on the continuity of its operations. These initiatives are listed below.
Formed COVID Command Center (CCC) comprising of the heads of EHS, HR, Corporate Services along with CEO, COO, CHRO and other management team members. This committee met every day during the pandemic to review, develop and implement measures to ensure safety of its employees and minimize the impact of operations
Designed and implemented appropriate work practices, systems – social distancing, sanitization, staggered working hours, restricted movement to ensure safety and health of employees at workplace
Access to medical doctor 24 x 7 x 365 on call for all employees
Routine awareness sessions by the Factory Medical Officer were conducted for employees and their families
Provided adequate transportation arrangements for travel to/from work/home
Access to professional expertise to ensure emotional and physical well-being of employees and their family members
Provided financial incentives to employees/ workers whose presence was inevitable for our critical operations
Special leave allowances to employees who were impacted by COVID
Tied up with designated hospitals for access to emergency treatment on need basis for employees
Tied up with hospitality partners to provide accommodation to employees during recuperation post COVID
Medical insurance to employees and their family members due to COVID-19 hospitalization
Work from home option for employees from enabling functions
Implemented strict safety guidelines to accommodate visitors on campus
Developed and implemented Standard Operating Procedures to handle COVID impacted employees – in terms of safety, wellbeing, recovery etc.
Vaccination drive for eligible employees across organization
Advantage Aragen
The demand for R&D outsourcing is outstripping supply. There are now a handful of CROs /CDMOs in Asia with world class capabilities and infrastructure who will benefit from these emerging outsourcing trends. We, at Aragen are involved to advance science by driving Covid research for our partners in two key areas:
We have been engaged with firms in accelerating their vaccine development. For example, we have partnered withOrganics to advance TerraCov2 the company's SARS CoV-2 vaccine candidate, which could provide specific immunity from the novel coronavirus.
We have supported several leading diagnostic firms in developing and manufacturing reagents that play a key role in their Covid test kits, which have been used extensively in Europe and the US.
Aragen's initiative, agility and implementation rigour has ensured that we stay as the most dependable partners to our customers across the world.
Source: The Business Frame