Back to News
Manni Kantipudi (Chief Executive Officer) & Ramesh Subramanian (Chief Commercial Officer), Aragen Life Sciences, in an exclusive interview with GBR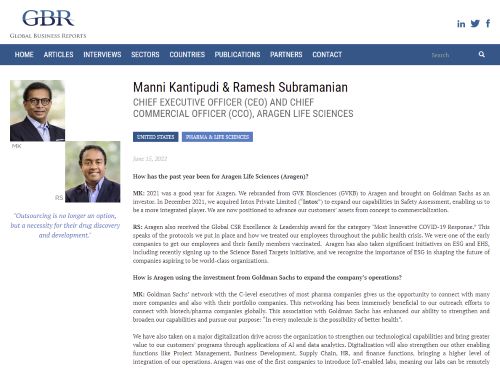 How has the past year been for Aragen Life Sciences (Aragen)?
MK: 2021 was a good year for Aragen. We rebranded from GVK Biosciences (GVKB) to Aragen and brought on Goldman Sachs as an investor. In December 2021, we acquired Intox Private Limited ("Intox") to expand our capabilities in Safety Assessment, enabling us to be a more integrated player. We are now positioned to advance our customers' assets from concept to commercialization.
RS: Aragen also received the Global CSR Excellence & Leadership award for the category "Most Innovative COVID-19 Response." This speaks of the protocols we put in place and how we treated our employees throughout the public health crisis. We were one of the early companies to get our employees and their family members vaccinated. Aragen has also taken significant initiatives on ESG and EHS, including recently signing up to the Science Based Targets initiative, and we recognize the importance of ESG in shaping the future of companies aspiring to be world-class organizations.
How is Aragen using the investment from Goldman Sachs to expand the company's operations?
MK: Goldman Sachs' network with the C-level executives of most pharma companies gives us the opportunity to connect with many more companies and also with their portfolio companies. This networking has been immensely beneficial to our outreach efforts to connect with biotech/pharma companies globally. This association with Goldman Sachs has enhanced our ability to strengthen and broaden our capabilities and pursue our purpose: "In every molecule is the possibility of better health".
We have also taken on a major digitalization drive across the organization to strengthen our technological capabilities and bring greater value to our customers' programs through applications of AI and data analytics. Digitalization will also strengthen our other enabling functions like Project Management, Business Development, Supply Chain, HR, and finance functions, bringing a higher level of integration of our operations. Aragen was one of the first companies to introduce IoT-enabled labs, meaning our labs can be remotely controlled. There is a major focus on digitalization and automation of our manufacturing vertical.
In what ways has the acquisition of Intox expanded Aragen's offerings?
MK: Aragen (then GVKB) started with discovery chemistry and biology services. We expanded our small molecule drug development capabilities by offering process R&D, chemical development, and formulation development services. We did not have the regulatory Safety Assessment capabilities to support our clients' Investigational New Drug (IND) filings. With the acquisition of Intox, we will be able to build on the range of regulatory toxicology studies that Intox offers currently, which includes mutagenicity, acute, sub-chronic, chronic, reproductive toxicology studies with analytical and bio-analytical capabilities in compliance with global regulatory requirements. We are now seen as a one-stop-shop for our clients' IND filing needs.
How have shifting desires towards domestic manufacturing impacted Aragen?
MK: While we definitely see reshoring of manufacturing, we do not see it as much for discovery services. If you have an eight-step synthesis, perhaps only the final two steps are moving back to the US. Most companies in the US and Europe do not have the capacity to do the first six steps in-country. Western CDMOs are now actually becoming important clients to Aragen as they seek partners in other geographies to conduct those remaining six steps in order to run more projects and optimize their capacity. We are growing well in our manufacturing services business.
Can you speak to the growing role of service providers in the drug discovery and development process?
MK: Pharma companies ranging from pharma majors to virtual biotechs recognize that outsourcing is no longer an option, but a necessity for their drug discovery and development. These companies focus on maximizing the funding from VCs by partnering with external partners rather than creating their own infrastructure and investing in resources. CROs and CDMOs have evolved significantly and are extremely capable to deliver quality services throughout the drug discovery and development process, and I believe this outsourcing model is here to stay and grow.
What are your projections for Aragen moving forward?
MK: Aragen is focused on overall company growth and the value we can bring to customers from our operations in both India and the US. We will continue to sustain and maintain this momentum by growing organically and inorganically in the coming years.
Source: GBR