Back to News
Manni Kantipudi, CEO, Aragen Life Sciences speaks in-depth about the company's brand story and value differentiators in this interview with Pharma Focus Asia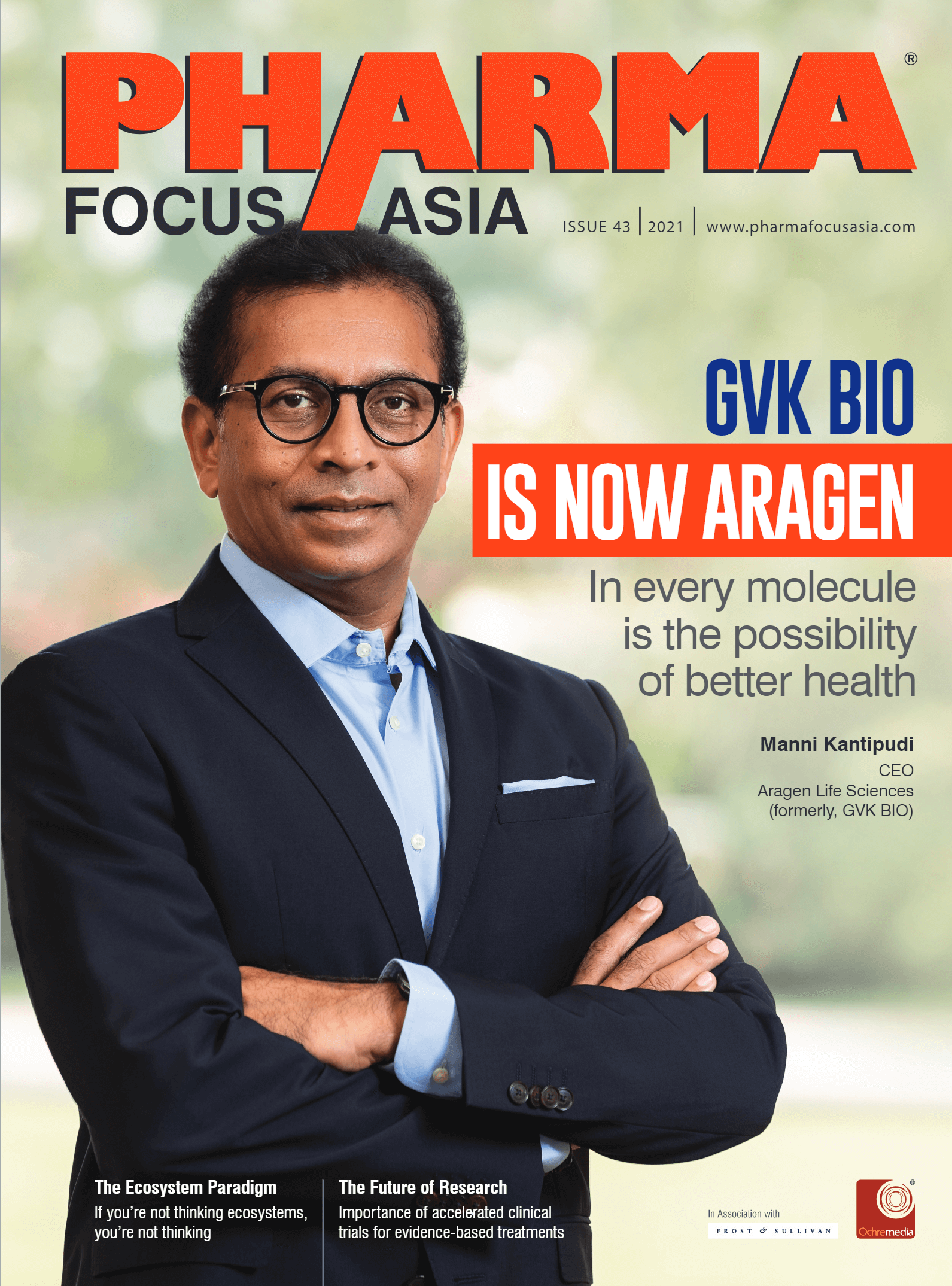 1.Could you share with our readers about the story behind the emergence of the new brand Aragen?
From our humble beginnings two decades ago offering chemistry and informatic services to a small group of clientele, we have now grown into a 'Partner of Choice' for both large pharmaceutical firms and cutting edge biotechs. We now offer a wide range of solutions and partner with customers from Concept through Commercialisation, and have a broad platform that includes small molecules and biologics. Over 95 per cent of our revenue comes from the West. Recognising the growth of the firm, and with our 20th year Anniversary this year, the Board and the Management Team decided that a name change that reflects the current firm would be more appropriate. We wanted the new brand name to represent more than just chemistry solutions, be recognisable in the West, and best show who we are today. After a 9 month process, several intense discussions, and in consultation with a brand agency, we identified the name Aragen. Aragen is a name that we already own, through our acquisition of biologics capabilities in the US. The new name Aragen Life Sciences ("Aragen") combines our small molecule (GVK BIO) and the biologics (Aragen BioSciences) platforms into one seamless solution for customers.
2. Digging deeper into the name itself, how do you feel the Aragen Life Sciences name will drive your future and is there anything that fellow brand marketers should realise bringing a replacement name into the world?
Aragen is a name known for its scientific expertise and customer centric culture in the West. We are now investing in branding around the name – our initial feedback from both current and prospective customers has been very positive. They love the name, the colours, the purpose and our identity. Our employees are quite excited, as the social media chatter reveals. We expect the name to be a great foundation around which we can build a great future for the firm.
3. What big, bold bets is Aragen Life Sciences making to leap ahead of competitor and customer expectations to ensure sustained growth in the long-run?
We believe the new investment by Goldman Sachs, at this important juncture in our company's development underscores the tremendous opportunity ahead. Working with Goldman Sachs, we are well-positioned to address the opportunities in front of us to become a leading, global player with comprehensive end-to-end solutions for drug discovery and development," said Manni Kantipudi, CEO of Aragen Life Sciences.
Goldman is one of the largest financial institutions in the world, among the most prestigious, and has deployed more than US$3.6 bn in capital in India since 2006. We are excited by the opportunity to work with the global Goldman team, harness their intellectual horsepower, leverage their strategic thinking, and judiciously invest our new access to significant capital. We have some big ideas that I expect we will pursue over the near future, but what will not change is our fundamental intent: invest in solutions that will accelerate our customer's journey to market. We will continue to be solely a service company, with no conflict of interests by competing with our customers. The outsourcing market is an exciting one for us, and there are more than enough opportunities there to propel our long-term growth.
4. Rebranding goes way beyond a logo change or a marketing exercise. What is your approach with making a steady and cohesive message that traverses all components and channels of your brand?
During the re-branding exercise, we delved deep into the most intricate details of the organisation to identify the personality of the organisation at large, re-visit our brand purpose and accordingly renew our brand purpose – 'In every molecule is the possibility for better health'. Our brand personality AURA is the acronym for Ambitious yet Understated, Resilient and Agile makes us an organisation that is quick to adapt to changes and deliver outcomes to support our customers.
5. Can you brief our readers how your logo colours share certain emotions about your brand and why does that work best over others?
Aragen's brand colors are loaded with symbolism and meaning. Deep Blue conveys the possibilities of science. It also cues confidence, strength and resilience.
Vibrant Orange symbolises life and better health. It also conveys ambition and energy. Measured Grey balances the colour palette and conveys the understated in us. The acronym of the symbol AURA (Ambitious, Understated, Resilient and Agile) as mentioned earlier, has an in depth meaning to it.
Known to be ambitious, we are far sighted and we think big. We seek to be the preferred discovery, development and manufacturing partner to the global life sciences industry. In spite of that, we are understated. We support so that our customers succeed. We are focused on results and deliver value to customers with quiet confidence. We also believe that resilience is in our DNA. Whatever the challenge, we make it work. Any challenge that does not break us, will only make us stronger. Being an agile organisation, we are quick to respond, always listening to our customers' requirements and continuously adapting to their changing needs.
6. What are the key elements that drive you and Aragen?
The key elements that drive me and Aragen are defined by our purpose and promise made to ourselves. Aragen's brand purpose (In every molecule is the possibility for better health) has evolved from the fact that customers come to us because they know that we look at every program as the most important program we have. Aragenites are engaged and energised knowing that their work is making a difference to human health.
Our inspiring and powerful purpose is like our north star, it guides us at every step of the way. Aragen is known around the world for its focus on every molecule, every program, every customer, irrespective of how big or small they may be. Our focus is driven by our belief that possibilities lie within every molecule, and it is up to each one of us to find solutions for better health.
Our renewed promise of 'Together Ahead' is to our employees, customers and other key stakeholders:
Your Science. Our Solutions. Together Ahead
Our Support. Your Success. Together Ahead
Aligned Values. Diverse Talents. Together Ahead
Global Clients. Local Presence. Together Ahead
Our advantage is driven by the customer centricity the organisation offers for stakeholder's success. We ensure the customer is always at the centre surrounded by empowered teams with an innovation mind-set. Through our agile partnerships, technology enabled platforms and process excellence, we drive programs from concept to commercial to accelerate the success of our partners.
7. How do you see Aragen evolving over the next decade?
I see Aragen evolving as a global organisation in the next decade. We were the first CRO to make an overseas acquisition in 2017. Inorganic growth will continue to be one of our approaches to scale our range of capabilities and solution offerings to our customers across the small and large molecules. We have made significant investments in our current facilities which will also propel us in our ambition to be seen as one of the global leaders in this space.
8. Would you consider rebranding as an oppor tunity to strengthen and reaffirm your company's identity and values, both internally with your employee base and externally with your customers?
Most definitely yes. The re-branding exercise has given us an opportunity to re-discover our strengths as an organisation and build upon it. The company has grown from strength to strength over the last 20 years. While our values remain the same, it is now aligned to the new brand promise and purpose. Our promise and purpose is something that is carried by each and every employee of the organisation During this exercise, we were able to streamline quite a bit to bring in a structure to our vision for success. We are expanding our employee base and we are looking at a new hiring strategy in the year to come.
9. What according to you are the steps to ensure a smooth transition into the new name for your clients and other stakeholders?
We have constantly been updating our employees and clients on the name change and the new identity. The brand personality, purpose and promise has been defined keeping in mind every employee's mindset within the organisation. It is rooted in our DNA and the same is being shared with our customers too.
10. Final Comment for our audience?
Aragen is now well positioned to be a partner of choice to our customers. With a strong track record performance and a clarity on what we want to accomplish in future, we will be able to bring in cutting edge solutions to advance our customer's assets.
Source – Pharma Focus Asia, Magazine for the Pharmaceutical Industry Leaders, June 2021