Back to News
India's One-Stop Shops
Contract service firms move in aggressively to take up new opportunities arising out of the new normal as India firms up its hold in global outsourcing.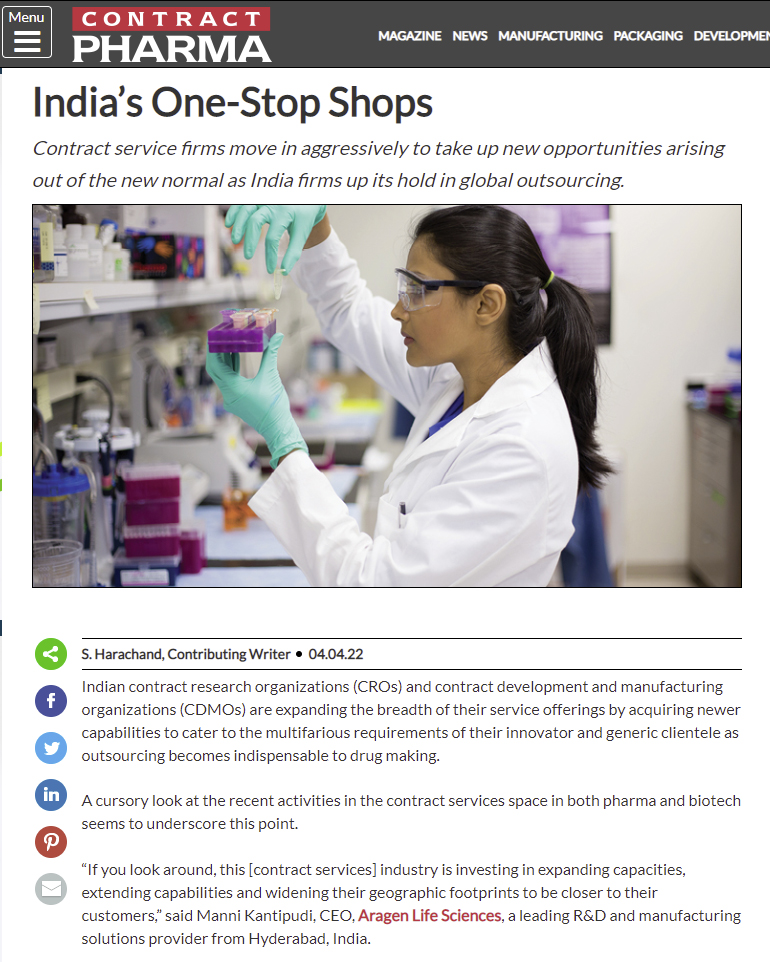 Indian contract research organizations (CROs) and contract development and manufacturing organizations (CDMOs) are expanding the breadth of their service offerings by acquiring newer capabilities to cater to the multifarious requirements of their innovator and generic clientele as outsourcing becomes indispensable to drug making.
A cursory look at the recent activities in the contract services space in both pharma and biotech seems to underscore this point.
"If you look around, this [contract services] industry is investing in expanding capacities, extending capabilities and widening their geographic footprints to be closer to their customers," said Manni Kantipudi, CEO, Aragen Life Sciences, a leading R&D and manufacturing solutions provider from Hyderabad, India.
CROs and CDMOs are also investing in implementing globally recognized processes, quality standards and operating models, Kantipudi added.
The firms recognize that so much has changed in the last two years. Efforts to regain the supply chain, the advent of new technologies along with swift regulatory approvals and practices are all quite unprecedented. The COVID 19 pandemic has led to a new normal and it is important to be agile and adaptable to the new environment.
Piramal Pharma Solutions (PPS), which has seen several expansion activities during recent months, provides a good example of this trend.
A contract services arm of the Mumbai-India headquartered Piramal Pharma Ltd., PPS announced the expansion of its antibody drug conjugate (ADC) capabilities at the Grangemouth facility in Scotland and new investments in its active pharmaceutical ingredient (API) facility in Morepath, England in February. The two new large-scale ADC manufacturing suites capable of handling increased batch sizes are expected to go on stream by the third quarter of 2023. Adding these two suites, PPS will now have a total of five facilities for making ADCs, a capability that no other firm can claim, presently.
Just a year ago, in March 2021, PPS added peptide API services to its capabilities as the company saw peptide drugs gaining popularity in oncology and metabolic therapies. The CDMO achieved the capability by acquiring a 100% stake in Hemmo Pharmaceuticals, an Indian manufacturer of peptide APIs. In the same month, PPS entered into a Master Services Agreement (MSA) with Plus Therapeutics, Inc. on services related to the development, manufacture and supply of RNL-liposome intermediate drug product from the Austin, TX-based radiotherapeutics firm.
PPS currently provides services related to early-stage drug discovery, manufacturing of APIs, phase 1 to phase 3 development for oral solids, liquids, creams and sterile injectables in addition to HPAPIs and ADCs.
The CDMO is expected to bolster the services portfolio further by augmenting it with cutting-edge biotech services as the company's parent firm Piramal Pharma made a significant investment in Yapan Bio, a Hyderabad-based CDMO last December. Yapan, which has capabilities in various categories of vaccines such as protein antigens, virus-like particles, nano-particles, DNA/RNA, whole-cell and live as well as in biotherapeutics that involve oncolytic viruses, viral/non-viral plasmids, naked DNA, mAbs and therapeutic proteins.
Bitten by the 'bio' bug?
Like Piramal, many CDMOs are currently in hot pursuit to gain capabilities in biologics. CDMOs having a bio edge are currently at an advantage.
The global biologics outsourcing market is expected to grow at low teen CAGR to reach $87.5 billion by 2028, according to a report, "Biologics Outsourcing Global Market – Forecast to 2028," by Reportlinker.com.
In fact, seven out of the 10 blockbuster drugs were biologics in 2019, outnumbering small molecule drugs.
The growth of the biologics market indirectly indicates the huge demand for services spanning all stages of biologic development starting from the preclinical stage to commercial manufacturing. The high complexity associated with the development and manufacturing of biologics and the requirement of specialized equipment and skills for biomanufacturing is prompting biopharma companies to turn to outsourcing as a viable option. As a result, the contract manufacturing organizations (CMOs) offering quality compliant, rapid bioproduction and supply services, along with scalable and flexible capacities with stable capabilities at competitive costs, will become an integral part of the biopharmaceutical partner company.
"To address the growing demand of the large molecule outsourcing space, we will build on our capabilities in biologics discovery and CDMO services," said Akhil Ravi, CEO, Aurigene Pharmaceutical Services Ltd. (APSL), a CDMO headquartered in Hyderabad offering services from drug discovery, clinical research and development to manufacturing APIs and formulation development.
During the pandemic, this wholly-owned subsidiary of Dr. Reddy's Laboratories launched new biological entity (NBE) discovery services in ADC, CAR-T and mRNA and is working to scale these services further.
At the same time, Aragen's Manni Kantipudi points to the fact that even though Indian CROs and CDMOs are well recognized for their ability to support small molecules, the country has fewer players specializing in large molecules, especially for NBEs.
Aragen is also investing in expanding its manufacturing capacity in the U.S. for large molecules. Explaining the reason for expanding capacities in the U.S., the CEO said, "Our ability to support our customers in the clinical development requires a biomanufacturing facility."
According to Kantipudi, Aragen's growth is being predominantly driven by biotech partners with innovative products, particularly those in the U.S. where outsourcing demand is growing quickly. The CRO currently offers end-to-end integrated or standalone solutions for small and large molecules with a team of more than 3,000 scientists.
In line with Aragen, many Indian CROs working on the discovery services front consider a site in the West a must. Such a satellite facility becomes absolutely essential if they offer integrated services that extend beyond preclinical drug discovery and include the manufacturing as well of drug candidates for clinical trials.
In March, Biocon Biologicals announced the $3.3 billion buy of biosimilar assets of the Pennsylvania-based Viatris. Last December, this subsidiary of the Bangalore-headquartered Biocon Ltd., entered into a strategic alliance with Serum Institute Life Sciences Private Limited (SILS), a subsidiary of Serum Institute of India, to access to 100 million doses of vaccines per year for 15 years.
The Serum Institute transaction, together with the latest Viatris deal, gives Biocon a very large tapestry in terms of both biosimilars and vaccines to play with, according to Kiran Mazumdar-Shaw, executive chairperson, Biocon and Biocon Biologics.
It is worth noting that Syngene International, a firm dedicated to contract research services, also is a subsidiary of Biocon.
The new buzz word: One-stop shops
Even while looking to widen the bandwidth of their service offerings by augmenting novel modalities, contract service firms would prefer to differentiate themselves as one-stop providers covering the entire gamut of services. CDMOs with such capabilities can offer integrated end-to-end services through seamless technology transfer to their various facilities, ensuring quicker delivery of the project. Besides cost advantages, outsourcing companies can obviate the need for CMO-hopping or the dependence on multiple providers for a single product.
"Our strategy is to become a one-stop shop partner for clients," said Kantipudi. By having access to a biomanufacturing infrastructure, Aragen will be well-positioned to accelerate its customers' programs across different stages of clinical development in a seamless manner.
Recently, Aragen acquired a GLP-certified facility—Intox Pvt. Ltd.—to offer safety assessment solutions in preclinical studies. The CRO/CDMO will also invest in expanding its formulation development capabilities to support the drug product supply required for clinical trials, according to Kantipudi.
End-to-end capabilities would be an added attraction to the western companies who have been seriously looking to Indian CROs for research help, unlike earlier days when the outsourcing was restricted to initial phases of R&D.
However, the protection of their intellectual property remains a major concern of innovator companies. The more partners you have the higher the risk you take. But, innovators can effectively tackle this hurdle by establishing a partnership with a single CDMO with end-to-end integrated capabilities.
Clients may become interested in working with a single CDMO throughout a project in a specific geographic region(s) depending on where the company and end patients are located, notes a white paper titled, "Integrated Services: Partnership for Success," published by Piramal Pharma Solutions in February.
The paper describes how, as an integrated CDMO, PPS enables the cost-effective sourcing of a high value API as an example.
There are strong regulatory and technical benefits to working with GMP manufacturing sites in Europe or the U.S., while acquiring raw materials in China or India may help reduce the cost of overall production. PPS produces intermediates and starting materials at the company's facility in Ennore, India, and its Shanghai, China procurement center supports customers with raw material sourcing. Technology-rich sites in either India or the West then produce the finished API or drug product, giving the client an end-to-end integrated option for supply.
With increased interest in integrated services coming from a variety of customers, including global pharma innovators, biotechs and virtual pharma companies, the future of this space is looking bright, concludes the paper.
Cost-effective processes: The forte
Meanwhile, CMOs specializing in APIs and formulations focus on developing innovative processes and continuously optimizing them to maintain their competitive edge. Indian generic makers have been recognized globally for their unrivaled mastery in producing small molecule drugs through highly cost-effective processes, thanks to a patent regime that was in force for decades which recognized process patents and abrogated product patents. Today, Indian companies are adept at synthesizing their own versions of any given small molecule through "reverse-engineering" the original compounds no matter how complex they are.
When molnupiravir was granted EUA as the first-ever oral antiviral to target SARS-CoV-2 in India, over a dozen companies got their versions of the pill out in the market. Surprisingly, nearly half of the firms among them who bagged the approval were, in fact, the ones who had not been authorized by innovator Merck through transferring the know-how to make the novel molecule.
A few more versions of molnupiravir are still underway, reports suggest. Made-in-India molnupiravir pills are far cheaper as well. "Assuming optimization of molnupiravir synthesis, and a resulting drop in API cost, the U.S. price would be equal to about 161 times the estimated sustainable generic price," said Melissa Barber, a Harvard University researcher and Dzintars Gotham of Kings College Hospital London in a jointly written paper.
The quick churn out of dozens of molnupiravir versions proves that even those players who are not so big in size can also be remarkably swift.
Another instance of how the pandemic turned out a real-time opportunity can be seen in Divi's Lab. The Hyderabad, south India-based CMO made headlines for successfully developing four key intermediates used in the synthesis of remdesivir, an injectable antiviral used in the treatment of COVID-19. Divi's, which claims to have the world's largest API manufacturing facility, says its custom synthesis division has been catering to 12 out of the top 20 Big Pharma companies across the U.S., EU and Japan for more than 10 years.
Like Divi's, there are hundreds of big and small enterprises investing in the latest technologies for stable, consistent, predictable, compliant and verifiable processes, in order to offer contract services in a broad range of APIs/intermediates and various oral solids, liquids, injectable, inhaled and intranasal formulations. These factors combined make it the largest segment of contract services in India.
New regulations power CROs
Reports indicate that India is now emerging as a prime destination for global clinical trials as the regulatory climate improves.
The approval process timelines have been significantly reduced as a new set of laws for conducting clinical research in the country takes effect. The frequency of Subject Expert Committee (SEC) meetings, which review the proposals and advise the regulator, has been increased to facilitate speedy clearance. A dedicated portal has been launched to enable hassle-free registration of trials. Electronic data capture has become a standard practice replacing paper-based report forms. Similarly, clinical trials data analysis has gone completely digital. The process is on for digitizing operational processes like managing clinical trials at hospitals.
Along with accelerated approvals, the New Drugs and Clinical Trials (NDCT) rules enacted in March 2019, seek to harmonize India's regulations with globally recognized practices through inbuilt mechanisms to ensure the quality of data and patient safety.
Leading CROs say that numerous big global studies are now being carried out in India. Clinical trial sites in the country have several advantages that contribute to creating a favorable ecosystem such as lower costs and availability of quality health care practitioners besides a vast pool of a genetically diverse, treatment-naive population base.
The pandemic has also revved up the CRO sector as India has become an important site for several COVID 19 vaccine trials. Moreover, the government has initiated efforts to promote clinical trials for COVID 19 therapeutics in the country.
Overall, the outlook for the CRO segment looks pretty good. The clinical trials market in India is expected to reach $3.88 billion by 2030 expanding at a CAGR of 8.2% from 2022 to 2030, forecasts a report by Research & Markets. Phase 1 studies are projected to grow at a faster clip. While interventional studies have an upper hand because of the greater accuracy offered by them over observational studies, trials for oncology indications will lead the segment, according to the report.
Vaccines and beyond
Many global players have started outsourcing the development and manufacturing of complex COVID 19 vaccines to Indian companies which are currently supplying over 60% of public market vaccines to the world. Eyeing the lucrative vaccine market, several players have started focusing on the R&D of novel vaccine technologies such as mRNA, DNA, protein, VLP, etc.
Beyond their primary role as service providers, Indian CDMOs and CROs have evolved to excel themselves as scientific partners who can offer ideas and solutions to their clients. For many of the CROs offering drug discovery solutions, the working, long-standing partnerships with bigger companies have become more symbiotic and aid to hone their skills and better their practices and standards.
Obviously, today's Indian CDMOs and CROs do not want to be in the background, no longer wishing to be looked at as just a derivative, an extension of the country's generic industry.
Source: Contract Pharma