Back to News
Hyderabad-based Aragen to expand footprint in US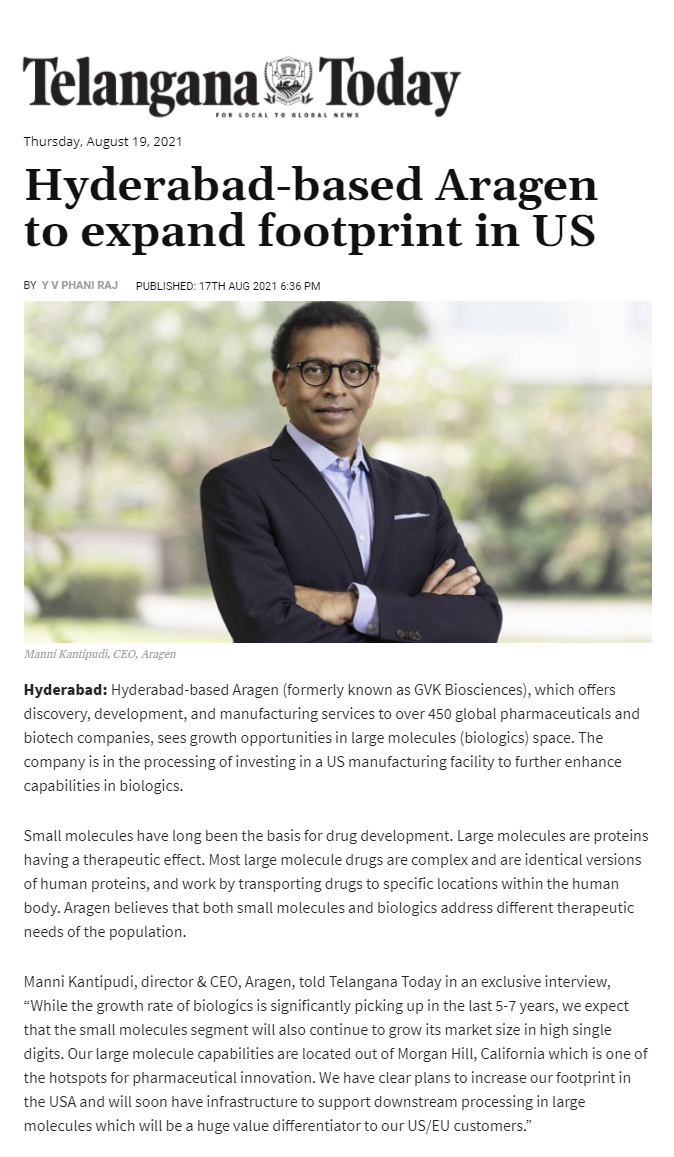 Hyderabad: Hyderabad-based Aragen (formerly known as GVK Biosciences), which offers discovery, development, and manufacturing services to over 450 global pharmaceuticals and biotech companies, sees growth opportunities in large molecules (biologics) space. The company is in the processing of investing in a US manufacturing facility to further enhance capabilities in biologics.
Small molecules have long been the basis for drug development. Large molecules are proteins having a therapeutic effect. Most large molecule drugs are complex and are identical versions of human proteins, and work by transporting drugs to specific locations within the human body. Aragen believes that both small molecules and biologics address different therapeutic needs of the population.
Manni Kantipudi, director & CEO, Aragen, told Telangana Today in an exclusive interview, "While the growth rate of biologics is significantly picking up in the last 5-7 years, we expect that the small molecules segment will also continue to grow its market size in high single digits. Our large molecule capabilities are located out of Morgan Hill, California which is one of the hotspots for pharmaceutical innovation. We have clear plans to increase our footprint in the USA and will soon have infrastructure to support downstream processing in large molecules which will be a huge value differentiator to our US/EU customers."
"A significant portion of our customers and revenues come from the US and EU, with the US being the leading contributor. We have a global sales team located across the US and EU to facilitate easy access to our customers, and also enhance our engagement levels. We are therapeutic-agnostic as our customers focus on diverse areas such as oncology, pain, inflammation, fibrosis, cardiovascular, and metabolic diseases. We expect these therapeutic areas to attract significant investment due to their potential market growth and disease burden," he added.
Enhancing capacities
In the last few years, the company has been seeing growth in the outsourcing of services to support biologics. The company is the first Indian CRO (contract research organisation) to acquire a US CRO- Aragen Bioscience in 2014 to cater to the needs of companies in large molecules space. The company has recently invested in development and manufacturing to meet its expansion.
"In biologics, we are advancing downstream, and investing in a manufacturing facility in the US to offer a single seamless solution to our customers who want to develop and manufacture at one place. We are in the advanced stages of finalisation," he added.
In terms of the scientific base, Aragen has over 3,000 employees out of which over 2,800 are scientists. "We believe in investing in our employees. We are expanding the company, and are looking forward to hiring around 400 plus employees in 2021-22," Kantipudi informed.
Source: Telangana Today