Back to News
GVK Biosciences Inaugurates a Process Engineering & Safety Evaluation Lab
In line with its motto "Safety and Compliance Always", GVK BIO, Asia's leading contract Research and Development organization has recently inaugurated a Process Engineering & Safety Evaluation Lab at its research facility in Hyderabad. The newly commissioned lab is equipped with the state-of-the-art process safety instrumentation and systems to serve its customers.
Process safety studies are aimed at developing safe chemical processes, and there by prevent incidents and reduce operational risks. The Process Engineering & Safety Evaluation Lab at GVK Bio is resourced with process scientists & chemical engineers, along with wide range of equipment such as Thermal Screening Unit (TSU), Reaction calorimeter (RC1e) with Gas evaluation kit, Differential Scanning Calorimeter, Poly block & DoE software, miniature equipment Pressure Nutsch filter, Centrifuge and Micronizer.
Fundamental to the successful development of safe chemical processes is understanding the stability of reactants, intermediates and the final product. Thermal Screening Unit (TSU) is a powerful, yet simple to operate tool with applications in initial reaction hazard assessment. TSU can be used to understand the stability of feeds (solid and liquids), intermediates, products and mixtures. The data can be useful in evaluating the safe operating and storage conditions, as well as consequences of the runaway reactions. Key data produced from TSU include onset temperature of exotherm, rate of temperature & pressure rise, maximum temperature and pressure at thermal decomposition and time from exotherm initiation to maximum rate of thermal decomposition of the test sample.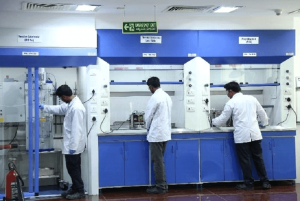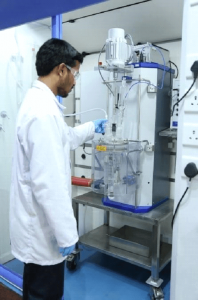 Reaction calorimeters are used to uncover potential safety issues or non-scalable conditions during the chemical process development. With in-house Reaction calorimeter (RC1e) workstation equipped with gas evolution kit, GVK Bio Process Engineering & Safety Evaluation Lab can study the energy released during the reaction, understand the unreacted reagent accumulation, estimate the cooling load, feed rate of the reagent and gas evolution during the scale up reaction.
In addition, the lab is equipped with a PolyBLOCK, which is a state-of-the-art instrument in parallel process development. It can be operated at different temperature zones (-80 to 250°C) and multiple reactions can be run in parallel. Complemented with Design of Experiments (DoE) Software, it has versatile applications in chemical process development such as understanding critical process parameters and further development via a Quality by Design (QbD) approach. Coupled with a turbidity probe, PolyBLOCK will help GVK team in developing robust crystallization process by establishing meta-stable zone widths (MSZW) and solubility curves. Miniature equipment such as Pressure Nutsch filter, Centrifuge and Micronizer help the development team in understanding properties such as cake resistance, pressure drop, filtration rate, particle size etc.
Team of scientists, process & chemical engineers work collaboratively in the Process Engineering & Safety Evaluation Lab to ensure the delivery of safe and cost effective chemical processes. The lab will supplement GVK BIO in its process development and manufacturing activities, ensuring on-time and in-full (OTIF) delivery of high quality products and services to its global customers.