Back to News
GVK BIO wins the Global CSR Excellence & Leadership Awards
"Go Green, Grow Green" Project awarded the Best Environment Friendly Project
Hyderabad, India — February 18, 2016 — GVK Biosciences (GVK BIO), Asia's leading Drug Discovery Research and Development organization, today announced that it received the prestigious Global CSR Excellence & Leadership Awards in the category of Best Environment Friendly Project for its "Go Green, Grow Green" plantation drive.
The Global CSR Awards are constituted by the World CSR Congress every year on the World CSR Day and are presented to companies who believe in the value of Sustainable CSR; that which is built in the fabric of business – making it a reality.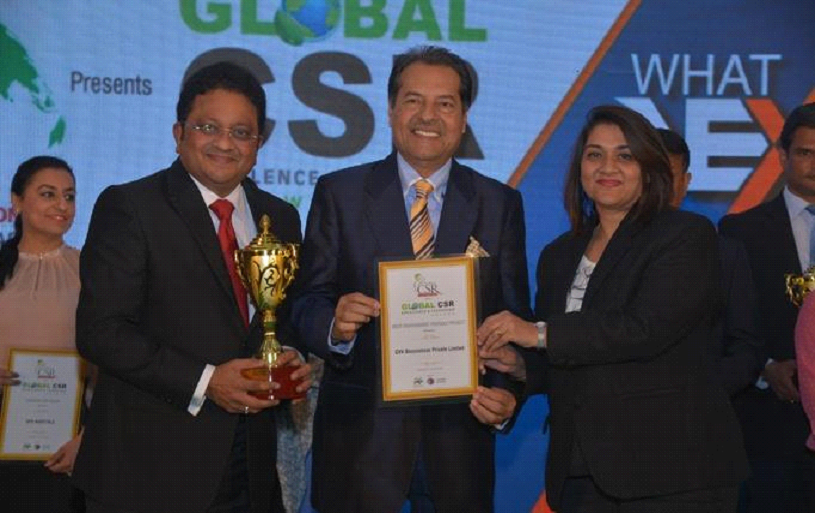 GVK BIO has achieved this recognition for the mega plantation drive "GO GREEN, GROW GREEN" conducted in July 2015. The event saw a huge participation of 1000 employees and key local Government officials joining hands to plant over 1400 saplings of Peltophorum ferrugunium, Pongamia pinnata and Azadirachta indica in an around the GVK BIO – Nacharam and Mallapur Campus. GVK BIO has also tied up with the GHMC for watering and soil maintenance of the plants for the next 3 years.
About GVK BIO
GVK Biosciences (GVK BIO) is one of Asia's leading Discovery Research and Development organisations providing a broad spectrum of services, across the R&D and manufacturing value chain with a focus on speed and quality. GVK BIO's capabilities include Integrated Programs, Discovery Services, Development Services, Contract Manufacturing and Formulation R&D Services. GVK BIO's diverse portfolio of more than 350 customers includes some of the world's largest pharmaceutical, biotechnology, agro, life science companies and leading academic institutions.
About World CSR Congress
The World CSR Congress is an International body which encourages the society to spread the message of Sustainable CSR, that which makes a difference to the community at large. Dr. R L Bhatia is the Founder of World CSR Day who believes in his dream – "to unite the world through responsible action". Over more than 100 countries and their corporates and individuals participate each year on 18th February to gather and celebrate the World CSR Day that is organized by World CSR Congress.
To join hands towards responsible action please visit us at www.worldcsrcongress.com.
Contact
E: corpcomm@aragen.com