Back to News
Global Business Reports: GVK Recently Constructed Mumbai's Much Acclaimed New Airport
Interview with GV Sanjay Reddy, Vice Chairman, GVK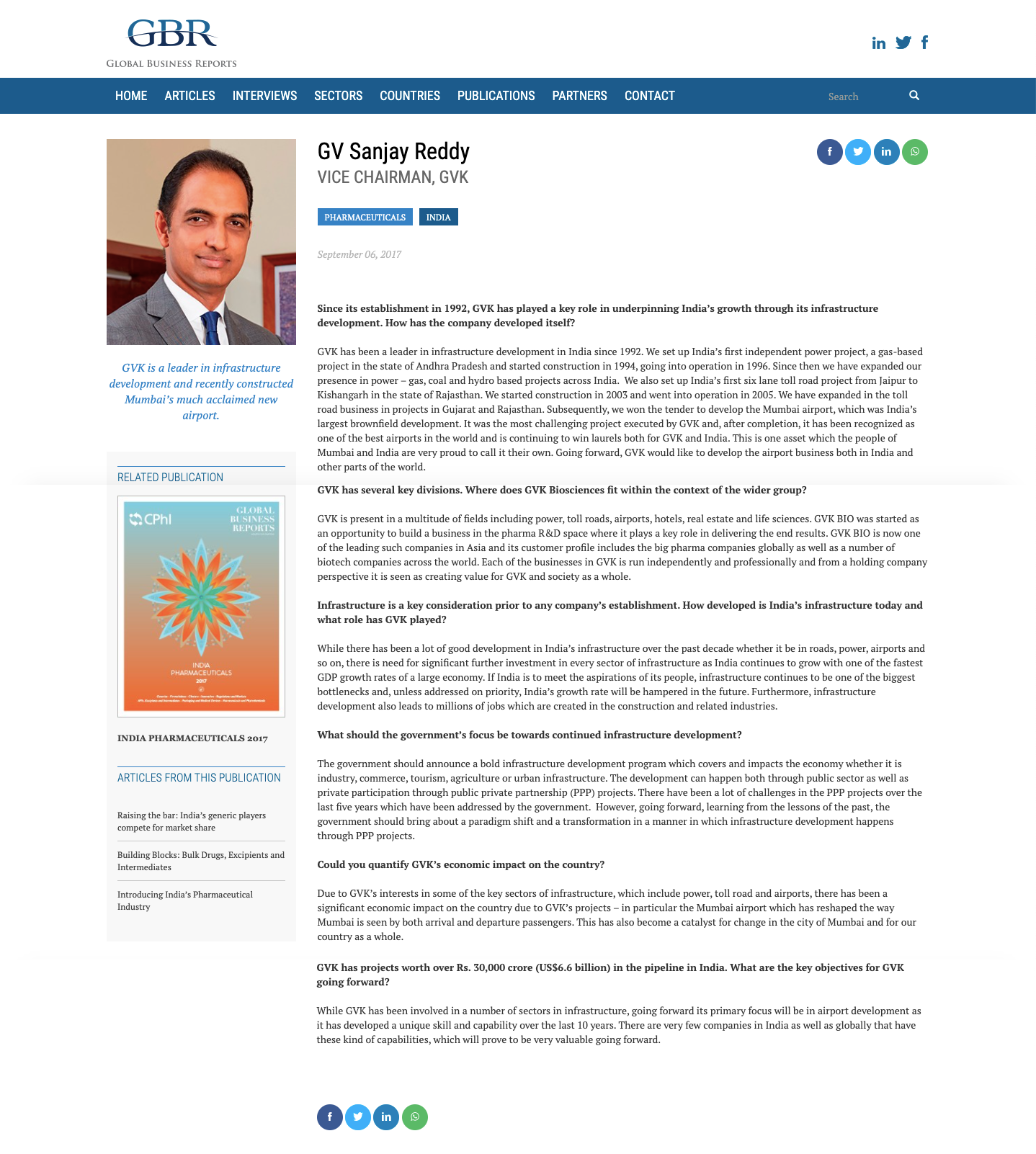 Interview
GVK is a leader in infrastructure development and recently constructed Mumbai's much acclaimed new airport.
GV Sanjay Reddy, Vice Chairman, GVK
Since its establishment in 1992, GVK has played a key role in underpinning India's growth through its infrastructure development. How has the company developed itself?
GVK has been a leader in infrastructure development in India since 1992. We set up India's first independent power project, a gas-based project in the state of Andhra Pradesh and started construction in 1994, going into operation in 1996. Since then we have expanded our presence in power – gas, coal and hydro based projects across India. We also set up India's first six lane toll road project from Jaipur to Kishangarh in the state of Rajasthan. We started construction in 2003 and went into operation in 2005. We have expanded in the toll road business in projects in Gujarat and Rajasthan. Subsequently, we won the tender to develop the Mumbai airport, which was India's largest brownfield development. It was the most challenging project executed by GVK and, after completion, it has been recognized as one of the best airports in the world and is continuing to win laurels both for GVK and India. This is one asset which the people of Mumbai and India are very proud to call it their own. Going forward, GVK would like to develop the airport business both in India and other parts of the world.
GVK has several key divisions. Where does GVK Biosciences fit within the context of the wider group?
GVK is present in a multitude of fields including power, toll roads, airports, hotels, real estate and life sciences. GVK BIO was started as an opportunity to build a business in the pharma R&D space where it plays a key role in delivering the end results. GVK BIO is now one of the leading such companies in Asia and its customer profile includes the big pharma companies globally as well as a number of biotech companies across the world. Each of the businesses in GVK is run independently and professionally and from a holding company perspective it is seen as creating value for GVK and society as a whole.
Infrastructure is a key consideration prior to any company's establishment. How developed is India's infrastructure today and what role has GVK played?
While there has been a lot of good development in India's infrastructure over the past decade whether it be in roads, power, airports and so on, there is need for significant further investment in every sector of infrastructure as India continues to grow with one of the fastest GDP growth rates of a large economy. If India is to meet the aspirations of its people, infrastructure continues to be one of the biggest bottlenecks and, unless addressed on priority, India's growth rate will be hampered in the future. Furthermore, infrastructure development also leads to millions of jobs which are created in the construction and related industries.
What should the government's focus be towards continued infrastructure development?
The government should announce a bold infrastructure development program which covers and impacts the economy whether it is industry, commerce, tourism, agriculture or urban infrastructure. The development can happen both through public sector as well as private participation through public private partnership (PPP) projects. There have been a lot of challenges in the PPP projects over the last five years which have been addressed by the government. However, going forward, learning from the lessons of the past, the government should bring about a paradigm shift and a transformation in a manner in which infrastructure development happens through PPP projects.
Could you quantify GVK's economic impact on the country?
Due to GVK's interests in some of the key sectors of infrastructure, which include power, toll road and airports, there has been a significant economic impact on the country due to GVK's projects – in particular the Mumbai airport which has reshaped the way Mumbai is seen by both arrival and departure passengers. This has also become a catalyst for change in the city of Mumbai and for our country as a whole.
GVK has projects worth over Rs. 30,000 crore (US$6.6 billion) in the pipeline in India. What are the key objectives for GVK going forward?
While GVK has been involved in a number of sectors in infrastructure, going forward its primary focus will be in airport development as it has developed a unique skill and capability over the last 10 years. There are very few companies in India as well as globally that have these kind of capabilities, which will prove to be very valuable going forward.
Source: https://www.gbreports.com/interview/gv-sanjay-reddy
Contact
E: corpcomm@aragen.com