Back to News
Developments and Discovery in Modern Drug Research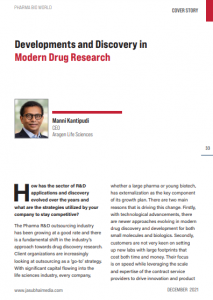 How has the sector of R&D applications and discovery evolved over the years and what are the strategies utilized by your company to stay competitive?
The Pharma R&D outsourcing industry has been growing at a good rate and there is a fundamental shift in the industry's approach towards drug discovery research. Client organizations are increasingly looking at outsourcing as a 'go-to' strategy. With significant capital flowing into the life sciences industry, every company, whether a large pharma or young biotech, has externalization as the key component of its growth plan. There are two main reasons that is driving this change. Firstly, with technological advancements, there are newer approaches evolving in modern drug discovery and development for both small molecules and biologics. Secondly, customers are not very keen on setting up new labs with large footprints that cost both time and money. Their focus is on speed while leveraging the scale and expertise of the contract service providers to drive innovation and product development. This paradigm shift in partnering for innovation has brought the pharma companies and CROs closer. The CRO/CDMO market has thus been growing consistently over the past few years, and R&D outsourcing is now seen as a 'must have' than 'good-to have' strategy.
Aragen offers end-to-end integrated discovery-development- manufacturing solutions for small molecules and biologics. Today, we have evolved as a 'partner of choice' for more than 450 global customers across pharmaceutical, biotech, animal health, agrochemical, nutrition and performance chemicals industries. Driven by our purpose – 'In every molecule is the possibility for better health' – we have been making systematic investment in strengthening our service offerings, expanding our delivery capacity, improving our operational efficiencies, and extending our geographic footprint. Aragen US, our US arm focusing on biologics solutions, has established itself as a strong player in cell line development and is now forward integrating into manufacturing. We have further expanded our campuses in Hyderabad and Bangalore by setting new labs for offering chemistry, biology, analytical and other services. We recently acquired Intox Pvt Ltd., a Pune-based preclinical CRO offering GLP certified safety assessment services. This will further expand on Aragen's end-to-end integrated discovery and development solutions. On the operational front, we are continuously investing in digitalization and automation across the organization inorder to improve processes, enhance productivity, reduce turnaround time.
What are the major challenges as one of the leading providers of outsourced discovery, and how have you addressed it?
One of the key challenges is to ensure that we have access to relevant talent pool who can deliver to the high standards that our customers have come to expect from us. We have been able to attract talent globally given our pedigree and credentials as a 'Great Place to Work'. We foster an environment that drives innovation and brings out the best of our scientists' talents and productivity. Our emphasis on a safety, IP and an equal opportunity employer differentiates us from the competition. We also believe that government support in terms of incentives/SOPs to companies offering R&D services will go a long way in attracting more investment and infrastructure to this industry.
What are some of Aragen Life Sciences' prudent competitive advantages within the Indian CRO industry?
Aragen's focus is on driving innovation and accelerating our customers research programs from concept to commercialization. Some of our key competitive advantages are:
Access to world-class infrastructure and scientific talent in cutting edge technology to drive innovation.
Strong IP and no conflict of business interest. We collaborate and not compete. We do not have any internal programs, nor are affiliated with any pharma company. We do not invest in pre-clinical or clinical assets, nor share in equity with our partners. Our business model is purely based on offering our solutions to advance our customers' programs in the value chain. Robust project management system to ensure that our customers have visibility on the progress of their projects; a well-defined site strategy; scalability of operations to meet the requirement of clients.
Global operations: We have research and manufacturing facilities in US and India to cater to our global customers, delivering the same quality of output every time, location no bar. Track record: We have consistently delivered for over 20+ years. With a customer base of over 450+ across the globe, our customer repeat rate of over 90% is a testimony to our commitment and relentless focus on customer centricity.
How has digitization and automation enabled your company to poise as a leading global player in drug discovery and development?
Aragen has a clear strategy for the digitalization of its solution offerings. We have leveraged IT to drive every aspect of our operations. Aragen's proprietary project management platform, XLRATE, provides our customers a seamless environment to interact with the project teams and get real-time access to project status. Digital technology such as Robotic Process Automation, paperless procurement process and logitracker helps in speeding up the supply chain processes, improve efficiencies, reduce errors. We have also implemented electronic lab notebooks (eLNB), electronic quality management systems (eQMS), Laboratory Information Management System (LIMS) and Chemwatch to improve operational efficiencies in the labs. HR E360, a customized digital tool, helps the HR team manage the entire life cycle of an employee and facilitates online interaction to resolve various queries and issues. These customized digital tools enable scientists to focus on their science, while teams from project management, logistics, procurement, quality, HR and other enabling teams ensure program efficiencies, timely communications and rapid turnaround times. Our key differentiators are innovation, speed, scientific rigor, flexibility, and data integrity. We have also implemented many other IT-enabled tools like SAP, and Salesforce to help drive the operational efficiency of other enabling functions like Finance, Business Development, and Quality Assurance.
Source: PharmaBio World