Back to News
CPHI Pharma Award Winners 2022: CEO of the Year – Aragen Life Sciences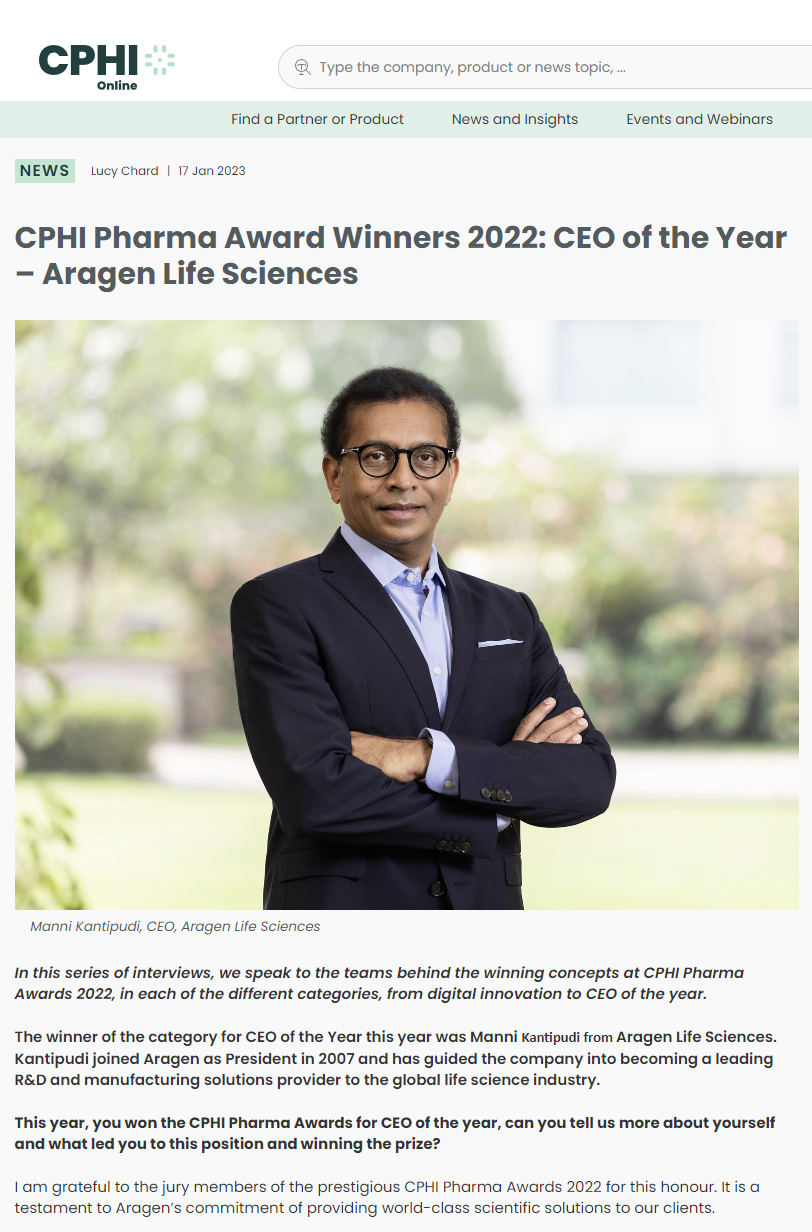 In this series of interviews, we speak to the teams behind the winning concepts at CPHI Pharma Awards 2022, in each of the different categories, from digital innovation to CEO of the year.
The winner of the category for CEO of the Year this year was Manni Kantipudi from Aragen Life Sciences. Kantipudi joined Aragen as President in 2007 and has guided the company into becoming a leading R&D and manufacturing solutions provider to the global life science industry.
This year, you won the CPHI Pharma Awards for CEO of the year, can you tell us more about yourself and what led you to this position and winning the prize?
I am grateful to the jury members of the prestigious CPHI Pharma Awards 2022 for this honour. It is a testament to Aragen's commitment of providing world-class scientific solutions to our clients.
It has been a transformative journey – from being an India-based, chemistry-focused contract research service provider to a globally reputed integrated CRDMO – for our over 4200 scientists and support staff who have always shown up to face tough challenges with innovative solutions. We have driven projects with a singular commitment – keeping our customers at the centre of everything that we do, while maintaining the highest standards of quality, science, and sustainability.
We have been continually evolving and investing in expanding capacities, enhancing capabilities, and widening our geographic footprints to be closer to our customers. Today, we are an integrated 'one-stop' solution provider for our customers across the drug discovery, development, and manufacturing continuum. This is in addition to implementing globally recognised processes, quality standards, and operating models.
Can you tell us a little more about Aragen Life Sciences and your key priorities for the year ahead?
Aragen Life Sciences started its journey in 2001 and over the last 20+ years, we have been consciously working towards being an 'R&D partner of choice' for our customers in both small molecule and biologics. Starting as a Discovery Chemistry service provider, we have continuously expanded our service offerings and, today, we are an integrated service provider for discovery, development, and manufacturing to over 450 global customers. Our research and manufacturing facilities are in India and the USA.
In terms of the priorities for the coming year, the focus has been on the operationalisation of our state-of-the-art drug product manufacturing facility at our Hyderabad Campus, India, by January 2023. This will strengthen the company's ability to deliver drug product clinical material to our customers. We also recently commissioned a new R&D facility in Vishakhapatnam (India) and we need to ensure that the scientific personnel have the talent, and exhibit the values and culture that Aragen has been known for. Finally, we are working in mission-mode towards ensuring our safety assessment capabilities – built through our acquisition of Intox, a Pune-based GLP-certified facility – are integrated seamlessly with our solution offerings, providing our customers with the ability to advance their programs from discovery into the clinic.
In biologics, we are setting up a manufacturing facility in India, that will allow our partners to progress their programs from antibody discovery through cell line development, to manufacturing.
Another significant step that we have taken is towards building a global organisation that is committed to sustainability and is driven by green systems and processes. Not only are we members of the global Science Based Targets initiative (SBTi) and GRI South Asia Charter on Sustainability Imperatives, but we have also set ourselves a target to: a) reduce CO2-eq emissions intensity by 20% and water consumption by 30% by 2025 (base year 2021); and b) achieve zero waste disposal to landfill by 2025.
Recently, our efforts towards sustainability were recognized with a silver medal in the Ecovadis Global Sustainability Assessment for 2022.
What forms the very core of Aragen's growth story, is our people. Over the years, we have developed and expanded our people-centric policies with a robust learning and development program. The program offers the best-in-class training modules and experiences, that have helped them evolve at every step of their journey with us and the HR polices have ensured recruitment and retention of world-class talent. These efforts have borne fruit as we have been, and continue to be, a 'Great Place To Work' for three consecutive years since 2020.
With these investments, programs, processes, and forward-looking initiatives, we are on a mission to make Aragen the preferred partner for our customers who want to externalise their R&D programs with the objective of advancing their concepts through to commercialisation.
Please could you describe a day in the life of being CEO at Aragen?
At Aragen, my focus has been on nurturing an ecosystem that boosts productivity, cultivates a joyful existence, deepens relationships – both with internal and external stakeholders – and, encourages a sustainable way of life.
I firmly believe that an idea can come from anyone. For us, every individual brings unique perspectives to the table, and to further boost their thought process, one needs to cultivate the essence of a joyful existence. So, at Aragen, we focus on bringing the best out of our scientific minds by creating an environment ripe for fruitful engagements.
There is a renewed rigour and focus on sustainability and customer-centricity, as we march towards our goal of being one of the top CRDMOs in the world. To achieve this, we have been working on digitalising our processes, to reduce turn-around time for our customers. We will build to rely on digital data for faster data-driven decision making, such that at any given point in time, processes are streamlined, and we are audit-ready.
How do you incorporate Aragen's values, aptly called ETHICS, into your own role on a regular basis?
ETHICS is the acronym for Empowerment, Teamwork, Honest and Integrity, Innovation, Customer-focus, and Safety & Compliance. ETHICS form a unique, relevant, and compelling guidance framework for our people to work collaboratively, towards a unified vision by building a culture that resonates with growth, opportunities, and values that drive the organisation forward with integrity, as bequeathed by our founders.
As a leading CRDMO, ETHICS help in establishing a customer-centric mindset among our people and encourages them to go beyond our promise. We also understand the need to hold ourselves socially, environmentally, and economically responsible, and, therefore, our safety and compliance efforts have been at par with set global standards. We are committed to providing innovative scientific solutions to our customers in a safe and sustainable manner to minimise the impact on the environment and ensure the health and safety of our stakeholders. Sustainability, at Aragen, is a collective commitment across the organisation. We are focused on continually improving environmental, labour, human rights, and sourcing standards. We have imbibed the principles of sustainability into every aspect of our operations – following principles of green chemistry in labs and manufacturing facilities, sustainable sourcing, green supply chain, employee wellness and health, community engagement, following good corporate governance practices, ensuring compliance with regulatory requirements, and integrating best global EHS&S practices.
What does winning the award mean to you and what will it do for you as a company?
Personally, I am delighted and proud, as I see it as a recognition to the efforts, commitment, and determination of the over 4200 members of the Aragen family who have worked day in and out to deliver on the needs of our customers. We expect to gain more momentum this year and reach our set goals. I am also humbled by the recognition and want to point out that this award is for the whole Aragen family and not just for me.
What exciting projects can we expect to see from you and Aragen in the coming years?
We are investing in expanding capacities, extending capabilities, and widening our geographic footprint to meet the needs of the global bio-pharma industry. We understand that our customers rely on our expertise, track record, and solution offerings and, so, our energies are focussed on consolidation of our drug product development solution offerings to strengthen our position as a one-stop shop for all their needs – transforming ideas into solutions for better health.
With our soon-to-be operationalised state-of-the-art formulation manufacturing facility in Hyderabad and the new R&D facility in Visakhapatnam (both India), we expect to be able to cater to this proposition and play a key role in the overall R&D ecosystem of the global life sciences industry. The INTOX facility in Pune and the facility in Morgan Hill, California (CA, USA) continue to see a surge in engagement with key existing clients, and new business as well. We are also digitalising our processes internally to foster an environment that drives innovation and brings out the best in our scientists' talents and productivity.
To see what the other teams have to say about their award winning work, see here.