Back to News
CFI.co Meets the CEO of GVK Biosciences: Manni Kantipudi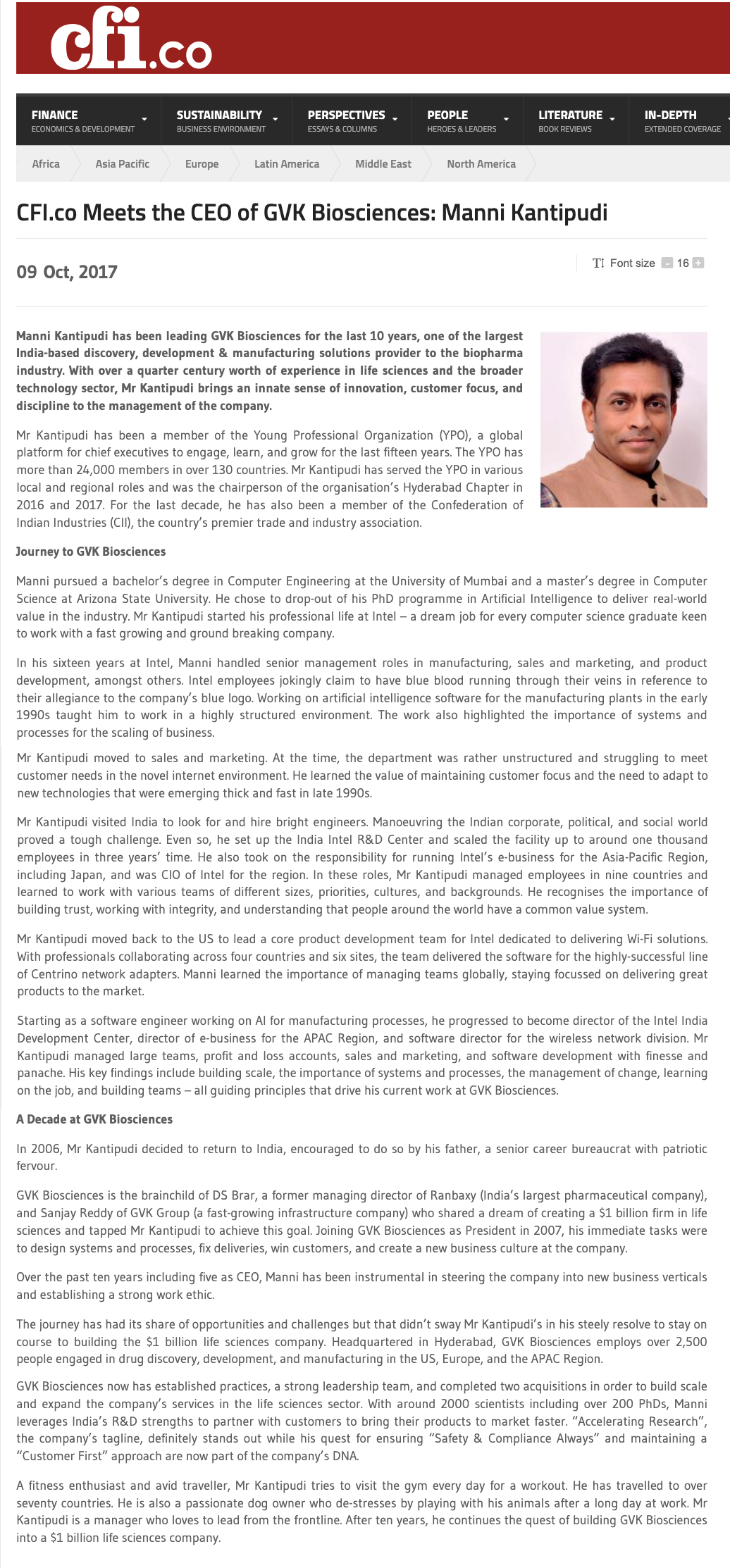 Interview
Manni Kantipudi has been leading GVK Biosciences for the last 10 years, one of the largest India-based discovery, development & manufacturing solutions provider to the biopharma industry. With over a quarter century worth of experience in life sciences and the broader technology sector, Mr Kantipudi brings an innate sense of innovation, customer focus, and discipline to the management of the company.
Mr Kantipudi has been a member of the Young Professional Organization (YPO), a global platform for chief executives to engage, learn, and grow for the last fifteen years. The YPO has more than 24,000 members in over 130 countries. Mr Kantipudi has served the YPO in various local and regional roles and was the chairperson of the organisation's Hyderabad Chapter in 2016 and 2017. For the last decade, he has also been a member of the Confederation of Indian Industries (CII), the country's premier trade and industry association.
Journey to GVK Biosciences
Manni pursued a bachelor's degree in Computer Engineering at the University of Mumbai and a master's degree in Computer Science at Arizona State University. He chose to drop-out of his PhD programme in Artificial Intelligence to deliver real-world value in the industry. Mr Kantipudi started his professional life at Intel – a dream job for every computer science graduate keen to work with a fast growing and ground breaking company.
In his sixteen years at Intel, Manni handled senior management roles in manufacturing, sales and marketing, and product development, amongst others. Intel employees jokingly claim to have blue blood running through their veins in reference to their allegiance to the company's blue logo. Working on artificial intelligence software for the manufacturing plants in the early 1990s taught him to work in a highly structured environment. The work also highlighted the importance of systems and processes for the scaling of business.
Mr Kantipudi moved to sales and marketing. At the time, the department was rather unstructured and struggling to meet customer needs in the novel internet environment. He learned the value of maintaining customer focus and the need to adapt to new technologies that were emerging thick and fast in late 1990s.
Mr Kantipudi visited India to look for and hire bright engineers. Manoeuvring the Indian corporate, political, and social world proved a tough challenge. Even so, he set up the India Intel R&D Center and scaled the facility up to around one thousand employees in three years' time. He also took on the responsibility for running Intel's e-business for the Asia-Pacific Region, including Japan, and was CIO of Intel for the region. In these roles, Mr Kantipudi managed employees in nine countries and learned to work with various teams of different sizes, priorities, cultures, and backgrounds. He recognises the importance of building trust, working with integrity, and understanding that people around the world have a common value system.
Mr Kantipudi moved back to the US to lead a core product development team for Intel dedicated to delivering Wi-Fi solutions. With professionals collaborating across four countries and six sites, the team delivered the software for the highly-successful line of Centrino network adapters. Manni learned the importance of managing teams globally, staying focussed on delivering great products to the market.
Starting as a software engineer working on AI for manufacturing processes, he progressed to become director of the Intel India Development Center, director of e-business for the APAC Region, and software director for the wireless network division. Mr Kantipudi managed large teams, profit and loss accounts, sales and marketing, and software development with finesse and panache. His key findings include building scale, the importance of systems and processes, the management of change, learning on the job, and building teams – all guiding principles that drive his current work at GVK Biosciences.
A Decade at GVK Biosciences
In 2006, Mr Kantipudi decided to return to India, encouraged to do so by his father, a senior career bureaucrat with patriotic fervour.
GVK Biosciences is the brainchild of DS Brar, a former managing director of Ranbaxy (India's largest pharmaceutical company), and Sanjay Reddy of GVK Group (a fast-growing infrastructure company) who shared a dream of creating a $1 billion firm in life sciences and tapped Mr Kantipudi to achieve this goal. Joining GVK Biosciences as President in 2007, his immediate tasks were to design systems and processes, fix deliveries, win customers, and create a new business culture at the company.
Over the past ten years including five as CEO, Manni has been instrumental in steering the company into new business verticals and establishing a strong work ethic.
The journey has had its share of opportunities and challenges but that didn't sway Mr Kantipudi's in his steely resolve to stay on course to building the $1 billion life sciences company. Headquartered in Hyderabad, GVK Biosciences employs over 2,500 people engaged in drug discovery, development, and manufacturing in the US, Europe, and the APAC Region.
GVK Biosciences now has established practices, a strong leadership team, and completed two acquisitions in order to build scale and expand the company's services in the life sciences sector. With around 2000 scientists including over 200 PhDs, Manni leverages India's R&D strengths to partner with customers to bring their products to market faster. "Accelerating Research", the company's tagline, definitely stands out while his quest for ensuring "Safety & Compliance Always" and maintaining a "Customer First" approach are now part of the company's DNA.
A fitness enthusiast and avid traveller, Mr Kantipudi tries to visit the gym every day for a workout. He has travelled to over seventy countries. He is also a passionate dog owner who de-stresses by playing with his animals after a long day at work. Mr Kantipudi is a manager who loves to lead from the frontline. After ten years, he continues the quest of building GVK Biosciences into a $1 billion life sciences company.
Source: https://cfi.co/corporate-leaders/2017/10/cfi-co-meets-the-ceo-of-gvk-biosciences-manni-kantipudi/
Contact
E: corpcomm@aragen.com