Back to News
Celerity™ Supply Chain Tribe: Interview with Chandan Shirbhayye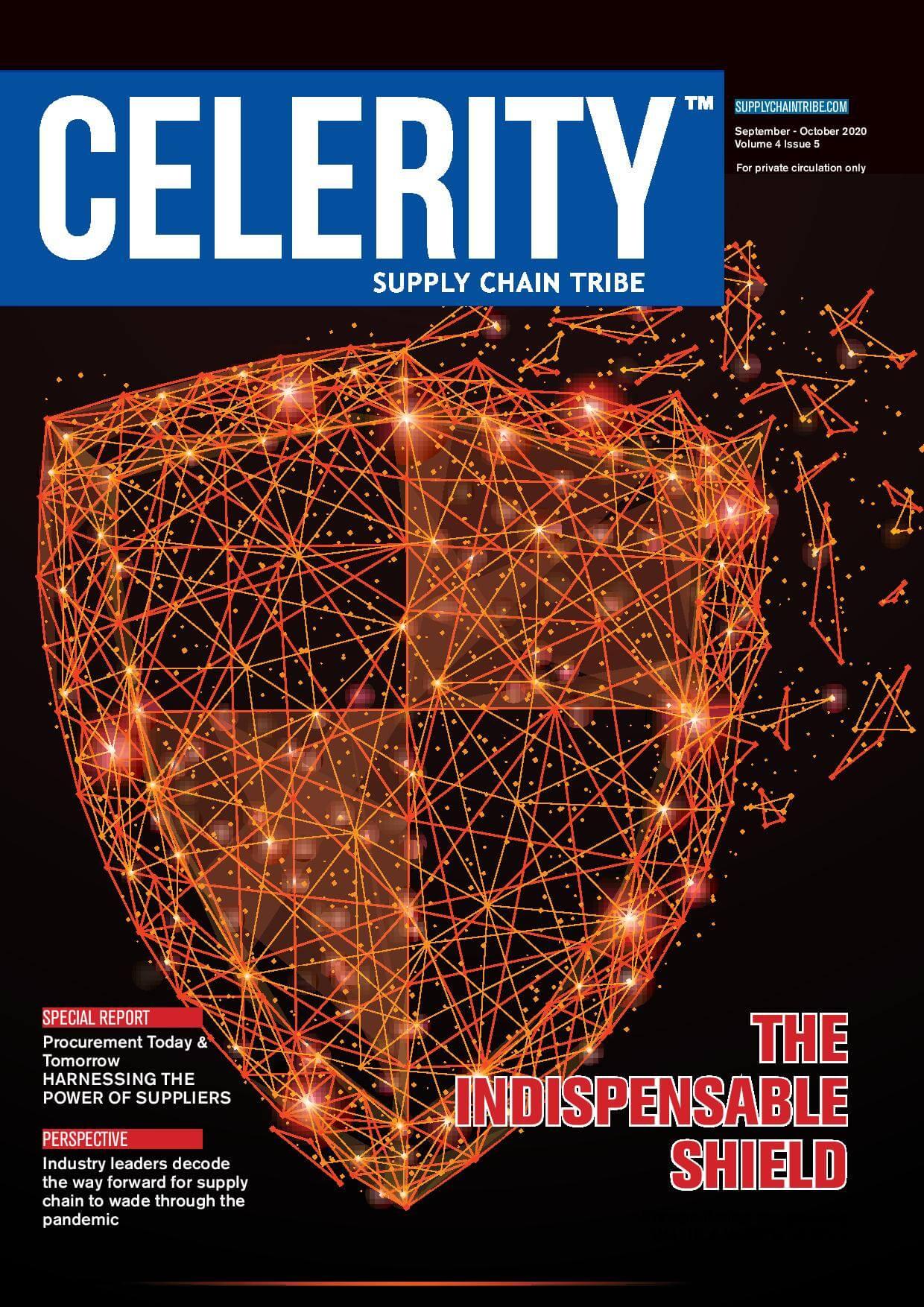 (Interview with Chandan Shirbhayye, Director – Supply Chain, GVK Biosciences Pvt Ltd)
"Supply chain with high level resiliency has been able to recover faster due to strong risk mitigation program and agility. We should continuously identify various supply chain risks and constantly work upon the mitigation plans. Technology, process and people are going to be the key drivers to manage any disruptions, hence we need to keep investing in them," affirms
Chandan Shirbhayye, Director – Supply Chain, GVK Biosciences Pvt Ltd.
Can you enlighten us on the entire value chain of GVK BIO and how is supply chain poised to play an enabling role in such unprecedented times?
GVK BIO is a global Contract Research and Development Organization (CRDO) providing Drug Discovery and Development services to the biopharma industry. We are a team of over 2500 highly qualified scientists, strong enabling function structure, backed by well-defined and scalable processes, state of the art facilities and a strong customer-centric partnering approach. Supply chain, particularly, as an enabling function, plays a crucial role in business performance to drive customer satisfaction, profitability and compliance. Supply chain in GVK BIO encompasses activities related to planning, procurement, logistics, warehouse, and compliance.
How does the procurement planning happen?
We have a mix of both product and project business. We have dedicated teams driving all the critical steps right from receipt of customer PO to final delivery. They identify the requirements and work closely with procurement team to ensure timely availability and competitive costs.
What are the challenges involved and how do you manage them?
Being in the service industry, it is important to be highly responsive to client requirements and critical to maintain profitability as well as sustainability. Since GVK BIO has multiple business verticals in service as well as manufacturing segments, it is important for supply chain operations to align its process and activities in accordance to the deliverables of the respective business verticals. This makes the supply chain operations more challenging since different supply chains models viz; agile or efficient; are to be appropriately adopted.
What were the challenges imposed during lockdown if at all any? How did GVK BIO manage them?
We were part of essential services, hence we got desired support from local authorities in terms of permission to operate and allied activities. Key challenge was that while we continue to operate, we had to ensure safety of all our employees and instil confidence in them to operate from workplace. Few critical roles, viz., scientific members, manufacturing team, analytical teams, warehouse teams and employee support services such as security, canteen had to operate from workplace only. Specific actions in terms of regular sanitization, regular checks at various entry and operation points, facilitating the travel and food arrangements, rotational shift operations, support to return to workplace if stuck in some location and incentive schemes were driven. Other team members were supported to operate from home. Taskforce was formed to drive the Covid Control specific actions. We had regular review and communication from top management on relevant actions. We constantly engaged our customers and supply chain partners on our operations and progress. We have fairly adapted to new normal of virtual working, social distancing and driving the high level of performance ensuring satisfaction of our esteemed customers.
How do you view supply chain post Covid?
COVID-19 impact resulted in huge disruptions and most of the successful fundamentals of supply chain were questioned whether it was just-in-time, globalized supply chain or lean operations. Supply chain with low levels of inventory and long-distance supply sources have struggled due to lockdown but it is a temporary impact, which will be overcome as soon as the situation eases out. Short term COVID impact will be seen mostly on the MSME sector. We have been engaging our MSME partners and helping them in reviving their business. Supply chains will have to drive agility and productivity to adjust to new normal and key enabler would be the technology and people.
How did GVK BIO play a vital role in the entire COVID pandemic?
We believe in the motto of 'Safety and Compliance always' and our core values – ETHICS – are the guiding force of our organization to fight the pandemic impact. We have ensured employee safety along with business continuity following all guidelines issued by statutory authorities. In terms of business and customer responses, there has been prioritization for COVID-19 related projects, which resulted in some adjustment at our end also. There has been impact on ongoing project deliveries due to lockdown related challenges and we are thankful to our esteemed customers who understood our situation and were more than willing to support the recovery in best possible manner. We constantly engaged our supply partners guiding them of requisite measures for safe operations and assuring of business continuity. We have been operating our sites with all requisite safety measures ensuring that our customers' requirements are fulfilled.
How do you motivate your team to tide over such testing times and deliver beyond their potential?
Role of any leader becomes very crucial to keep team motivated during testing times and this is ongoing process. Being a supply chain leader, we need to acknowledge the fact that in today's world, we will have to continuously work on risk mitigation and identify necessary actions as part of our day to day routine. We cannot be only focusing on cost or delivery parameters and will have to account for potential risk in our evaluations. Current crisis is unprecedented and would have created challenges for all. However, we can learn from this adversity and be better prepared for future. We need to empower our teams to be more innovative, collaborative, and responsive in managing this crisis. We, as a team, should collectively learn from failures and celebrate the success.
What are the crucial learnings that you have gained during the era?
These are unprecedented times for human race and has challenged us. It has forced us to look at alternate dimension of fulfilling our responsibilities. Robust processes, highly engaged workforce, technology adaption and collaborative approach have been the key differentiator and learnings. Continuously communicating with your key stakeholders helps in minimizing the adverse impact and identifying better solutions to overcome the crisis.
What are the global best practices in the sector you are operating in?
We are into life sciences industry supporting research and development programs of innovator drug companies enabling them to bring their products to market quicker and cost- effectively. We develop long term, sustainable and credible customer relationship through integrated offerings, transparent approach and new capability enhancements. Our key differentiator is speed, in terms of understanding the customer requirements and final delivery of the project. Global best practices have been around the same enabled through strong partnerships and technology adaption.
What is the crucial role of technology at GVK BIO?
The role of technology in any industry is to improve productivity, transparency, quality and compliance which, in turn must enable the sustainable business growth. At GVK BIO, we strongly believe in the role of technology for business success and have adopted the same in multiple areas of data management, customer update, compliance documentation, customer order processing, business development, people management, organizational development and various control as well as operational excellence activities. We constantly evaluate potential opportunities to adapt technology and strengthen our purpose to accelerate R&D for our customers ensuring safety and compliance.
What are the supply chain best practices that companies should imbibe to be better prepared to deal with testing times?
As we live in VUCA world, unexpected disruptions are bound to happen with minimal ability in any one individual or organization to control them. Supply chain with high level resiliency has been able to recover faster due to strong risk mitigation program and agility. We should continuously identify various supply chain risks and constantly work upon the mitigation plans. Technology, process and people are going to be the key drivers to manage any disruptions hence we need to keep investing in them. Share your insights on the digital innovation in supply chain… Supply chain plays a crucial role in driving customer satisfaction, business agility and profitability, at the same time, we need to ensure that we are every time right in terms of compliance and EHS requirements. Digital transformation will help supply chain community in reducing operational costs, improving quality, productivity, and compliances at deeper levels of supply chain beyond traditional reach of Tier-I/Tier-II levels. This will help in driving high levels of customer satisfaction and having a reliable and strengthened partnerships with supply partners.
'Success of Supply Chain is directly proportional to high performing Supply Partners and robust SRM', can you please elaborate on this?
In today's globalized world and highly demanding market, it is not at all cost efficient to have all the competencies in-house. With the right mix of inhouse and outsourced capabilities, having reliable and high performing partners improves the overall supply chain value proposition, driving all three aspects of Iron Triangle (Cost, Delivery and Quality). Effectiveness of any supply chain is dependent on its ability to develop and sustain strategic and long-term partnership with its partners who can provide us the competitive advantage as well as resilience in VUCA world.
How do you foresee the supply chain dynamics of India in times to come?
Supply chain is playing a crucial role in our fight against the pandemic. Supply chain will be key enabler for revival of economy and drive the next level of growth. From being a tactical function had been gradually transforming to be strategic function and current times are most suitable for supply chain to establish its value proposition. Many business leaders and industry experts have brought supply chain into core of all their discussions related to recovery and growth of economy. This will help in getting national policy reforms and investment into infrastructure, which will enable supply chain performance generating competitive advantage for businesses. I also foresee improvement in talent availability for supply chain, which was not a first choice as an employment option earlier.
Source: Celerity Supply Chain Tribe Magazine (Sept-Oct 2020)
View Chandan Shirbayye's profile
Contact
E: corpcomm@aragen.com