Back to News
CDMO industry to see increasing consolidation both in global and Indian markets: Manni Kantipudi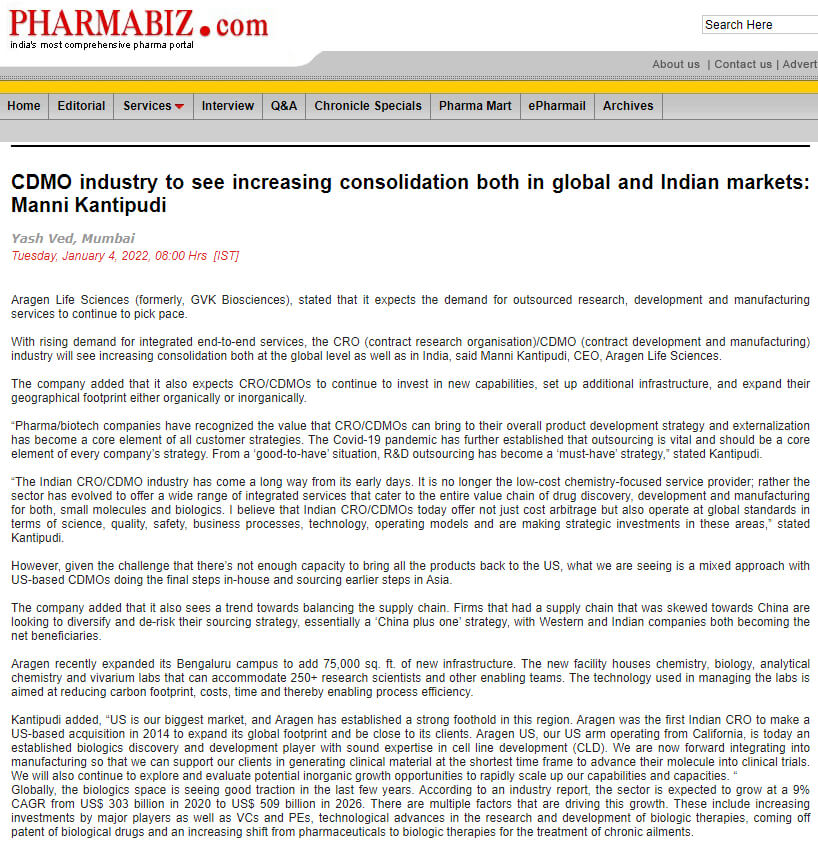 Aragen Life Sciences (formerly, GVK Biosciences), stated that it expects the demand for outsourced research, development and manufacturing services to continue to pick pace.
With rising demand for integrated end-to-end services, the CRO (contract research organisation)/CDMO (contract development and manufacturing) industry will see increasing consolidation both at the global level as well as in India, said Manni Kantipudi, CEO, Aragen Life Sciences.
The company added that it also expects CRO/CDMOs to continue to invest in new capabilities, set up additional infrastructure, and expand their geographical footprint either organically or inorganically.
"Pharma/biotech companies have recognized the value that CRO/CDMOs can bring to their overall product development strategy and externalization has become a core element of all customer strategies. The Covid-19 pandemic has further established that outsourcing is vital and should be a core element of every company's strategy. From a 'good-to-have' situation, R&D outsourcing has become a 'must-have' strategy," stated Kantipudi.
"The Indian CRO/CDMO industry has come a long way from its early days. It is no longer the low-cost chemistry-focused service provider; rather the sector has evolved to offer a wide range of integrated services that cater to the entire value chain of drug discovery, development and manufacturing for both, small molecules and biologics. I believe that Indian CRO/CDMOs today offer not just cost arbitrage but also operate at global standards in terms of science, quality, safety, business processes, technology, operating models and are making strategic investments in these areas," stated Kantipudi.
However, given the challenge that there's not enough capacity to bring all the products back to the US, what we are seeing is a mixed approach with US-based CDMOs doing the final steps in-house and sourcing earlier steps in Asia.
The company added that it also sees a trend towards balancing the supply chain. Firms that had a supply chain that was skewed towards China are looking to diversify and de-risk their sourcing strategy, essentially a 'China plus one' strategy, with Western and Indian companies both becoming the net beneficiaries.
Aragen recently expanded its Bengaluru campus to add 75,000 sq. ft. of new infrastructure. The new facility houses chemistry, biology, analytical chemistry and vivarium labs that can accommodate 250+ research scientists and other enabling teams. The technology used in managing the labs is aimed at reducing carbon footprint, costs, time and thereby enabling process efficiency.
Kantipudi added, "US is our biggest market, and Aragen has established a strong foothold in this region. Aragen was the first Indian CRO to make a US-based acquisition in 2014 to expand its global footprint and be close to its clients. Aragen US, our US arm operating from California, is today an established biologics discovery and development player with sound expertise in cell line development (CLD). We are now forward integrating into manufacturing so that we can support our clients in generating clinical material at the shortest time frame to advance their molecule into clinical trials. We will also continue to explore and evaluate potential inorganic growth opportunities to rapidly scale up our capabilities and capacities. "
Globally, the biologics space is seeing good traction in the last few years. According to an industry report, the sector is expected to grow at a 9% CAGR from US$ 303 billion in 2020 to US$ 509 billion in 2026. There are multiple factors that are driving this growth. These include increasing investments by major players as well as VCs and PEs, technological advances in the research and development of biologic therapies, coming off patent of biological drugs and an increasing shift from pharmaceuticals to biologic therapies for the treatment of chronic ailments.
Aragen Life Sciences is a leading R&D and manufacturing solutions provider for the life sciences industries worldwide. It offers end-to-end integrated or standalone solutions for small and large molecules. Established in 2001, the company operates through a network of sites located globally with a team of 3,000+ scientists and 450+ PhDs. Its expertise and experience have enabled over 450 customers in advancing their research programmes from discovery through commercialization.
Source: PHARMABIZ.com