Back to News
Big ambitions for India's contract research firms
The country's CROs want a seat at the global drug discovery table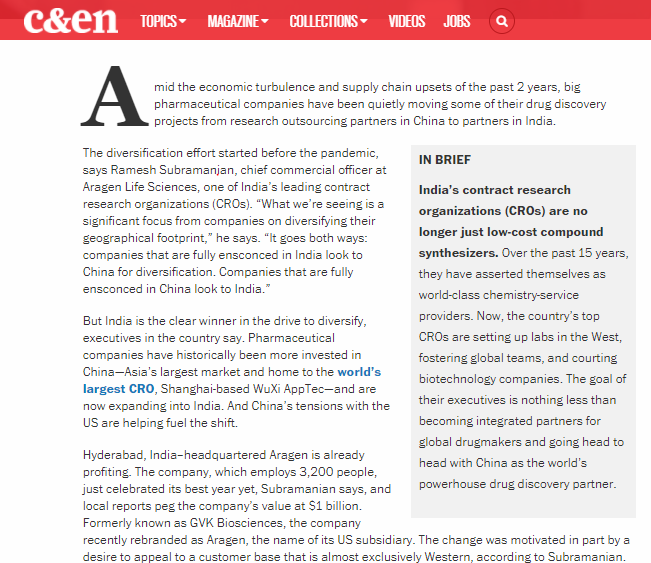 Amid the economic turbulence and supply chain upsets of the past 2 years, big pharmaceutical companies have been quietly moving some of their drug discovery projects from research outsourcing partners in China to partners in India.
The diversification effort started before the pandemic, says Ramesh Subramanian, chief commercial officer at Aragen Life Sciences, one of India's leading contract research organizations (CROs). "What we're seeing is a significant focus from companies on diversifying their geographical footprint," he says. "It goes both ways: companies that are fully ensconced in India look to China for diversification. Companies that are fully ensconced in China look to India."
But India is the clear winner in the drive to diversify, executives in the country say. Pharmaceutical companies have historically been more invested in China—Asia's largest market and home to the world's largest CRO, Shanghai-based WuXi AppTec—and are now expanding into India. And China's tensions with the US are helping fuel the shift.
Hyderabad, India–headquartered Aragen is already profiting. The company, which employs 3,200 people, just celebrated its best year yet, Subramanian says, and local reports peg the company's value at $1 billion. Formerly known as GVK Biosciences, the company recently rebranded as Aragen, the name of its US subsidiary. The change was motivated in part by a desire to appeal to a customer base that is almost exclusively Western, according to Subramanian
IN BRIEF
India's contract research organizations (CROs) are no longer just low-cost compound synthesizers. Over the past 15 years, they have asserted themselves as world-class chemistry-service providers. Now, the country's top CROs are setting up labs in the West, fostering global teams, and courting biotechnology companies. The goal of their executives is nothing less than becoming integrated partners for global drugmakers and going head to head with China as the world's powerhouse drug discovery partner.
Source: C&EN