Back to News
Aragen continues to ride CDMO growth wave as CEO honoured at CPHI Awards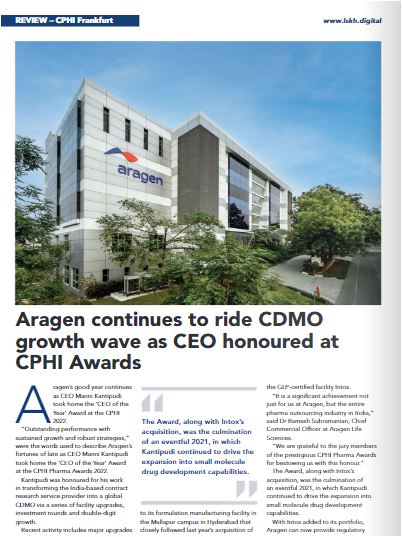 Aragen's good year continues as CEO Manni Kantipudi took home the 'CEO of the Year' Award at the CPHI 2022.
"Outstanding performance with sustained growth and robust strategies," were the words used to describe Aragen's fortunes of late as CEO Manni Kantipudi took home the 'CEO of the Year' Award at the CPHI Pharma Awards 2022.
Kantipudi was honoured for his work in transforming the India-based contract research service provider into a global CDMO via a series of facility upgrades, investment rounds and double-digit growth.
Recent activity includes major upgrades to its formulation manufacturing facility in the Mallapur campus in Hyderabad that closely followed last year's acquisition of the GLP-certified facility Intox.
"It is a significant achievement not just for us at Aragen, but the entire pharma outsourcing industry in India," said Dr Ramesh Subramanian, Chief Commercial Officer at Aragen Life Sciences.
"We are grateful to the jury members of the prestigious CPHI Pharma Awards for bestowing us with this honour."
"The Award, along with Intox's acquisition, was the culmination of an eventful 2021, in which Kantipudi continued to drive the expansion into small molecule drug development capabilities."
With Intox added to its portfolio, Aragen can now provide regulatory toxicology studies that includes mutagenicity, acute, sub-chronic, chronic, reproductive toxicology studies in compliance with global regulatory requirements.
"We did not have the regulatory Safety Assessment capabilities to support our clients' Investigational New Drug (IND) filings," said Kantipudi last year. "With the acquisition of Intox, we are now seen as a one-stop-shop for our clients' IND filing needs."
Aragen extends NeoVac agreement
It's not just facility upgrades and acquisitions that are fuelling Aragen's growth. Fruitful collaborations with global organisations have also been nurtured to provide new insights and exposure to innovative technology.
In September, Aragen extended its 2021 agreement with NeoVac to manufacture a lipid product that will support the development of lipid nanoparticles (LNP) for use in developing RNA vaccines.
The LNPs that are being developed by the UK-based NeoVac use technology that makes RNA vaccines more thermostable and accessible with broader capabilities and fewer side effects.
"The extension of our association with NeoVac was based on our commonality of vision to discover and manufacture novel solutions to problems present today and anticipated tomorrow," said Dr Subramanian of the agreement.
"Aragen has the necessary capabilities, capacity, and expertise to collaborate with NeoVac into the manufacturing phase.
"This collaboration validates Aragen's capabilities across discovery, development, and manufacturing to support our customers develop products for the betterment of people across the globe."
R&D outsourcing a 'must-have' strategy
Aragen's actions in 2021 were perhaps overshadowed by the COVID-19 pandemic, which Dr Subramanian thought had placed greater focus on outsourcing in the pharma sector, identifying R&D outsourcing as a 'must- have' strategy.
He highlighted the impact of the pandemic that had forced pharma companies to shut down R&D manufacturing sites for extended periods, further strengthening the need to outsource.
"The pandemic-induced situation forced migration of some clinical and commercial supplies of APIs back to the West," said Dr Subramanian.
"And, since CDMOs in the West too need support to manufacture all steps of APIs, we can expect to see several starting materials, intermediates, advanced intermediates, and regulated starting materials being supplied from the East even as the final steps are carried out in the West.
"Back a few years, relationships between organisations tended to be ambiguous, but with the advent of new technologies, there is greater collaboration, and understanding on the needs of each stakeholder and their differences – making associations much more fruitful and result-oriented."
Digitalization drive and emphasis
Kantipudi and Aragen's foresight has led to a recent digitalization drive across the organization that intends to add Artificial Intelligence (AI) and data analytics to customer programs.
Kantipudi added that the switch to digitization would bring in higher levels of integration to its Project Management, Business Development, Supply Chain, HR, and finance functions.
Looking ahead, Dr Subramanian can only see the CRO/CDMO sector prosper as projections predict that by 2028, the market size is expected to reach $88 billion (€85bn).
"If you look around, this industry is investing in expanding capacities, extending capabilities, and widening their geographic footprints to be closer to their customers.
"They are also investing in implementing globally recognized processes, quality standards, and operating models.
"Indian CROs/CDMOs are well recognized for their ability to support small molecules. However, in the large molecules space, we have fewer CROs/ CDMOs, especially for new biological entities (NBEs). So Aragen's US bio sites are something of an exception and we expect sizable growth here also as the bio pipeline evolves." Dr Subramanian added.
"The increasing investment by professional investors is also an indication of the maturity of the sector and the potential it offers for growth."
Source – Life Sciences Knowledge Hub